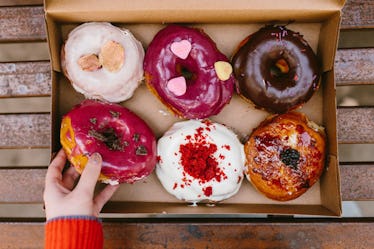 The Best Spots In The U.S. For Cider Donut Pics That Are Sweet Like Cinnamon
Can you smell the hints of fall in the air? I'm already way too excited for hitting up pumpkin patches and eating mashed potatoes in oversized sweaters. Like me, you're just as obsessed with autumn, and want to go on fall hikes and then scream your true feelings from the top of the mountain. You're scoping out the local corn mazes, and prepping your posts for the 'Gram. At some point, all of these seasonal adventures will end up on your social media. Well, let me tell you: The best spots for apple cider donut pictures are sweet like cinnamon. Sharing is optional, taking a selfie with your treat is not.
Seriously, gather up your girls as soon as possible and hit the road. Spending a little time in the car with the windows rolled down is well-worth the donuts waiting for you on the other side. When you get to the orchard or cute farm stand, your first mission will be to snag something good to eat. Looking at the menu might not be a bad idea. But, this is the time of the year for everything apple. (The decision seems fairly simple to me.)
After standing in line and taking your box of donuts from the counter, it's time for a photo shoot. Pretend you're going in for the first bite, or hold up your treat to the sky. Promise me that you'll check out one of these five spots that are just so sweet, OK?