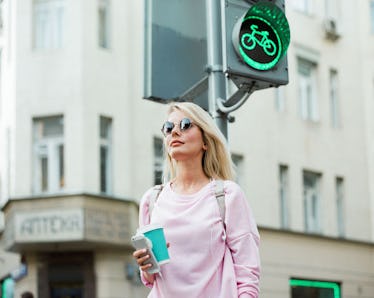 7 Unique Photos To Take With Your Pumpkin Spice Latte For The Best Fall Feed
Let's spice up your social media. A new season means the possibilities for pictures are endless. You could have a photo shoot in flannels, or pose along the bright lights of the Ferris wheel at the local fair. Don't even get me started on sunflower fields. These places are made for making memories, and creating fire #content for your feed. The universe might as well drop a camera in your lap, too. Your 'Gram is meant to be golden, and not blend in with everything else that's out there. These unique photos to take with your Pumpkin Spice Latte will definitely put those fall vibes on your feed.
The age of the Internet has really forced you to get creative and find your own voice. Bloggers are making you want to hop on a plane with your hot drink, while your followers are just looking for what's raw and real. It's up to you to decide what you're going for, and figure out a few captions that fit that style, too.
Personally, I love finding my own lens (if you will) and working all the different angles. At the end of the day, social media doesn't have to be so stressful. It just needs to be you. Right now, your life is all about lattes, particularly the pumpkin spice ones. Put that on your feed and bring fall to life. These seven unique shots will keep things interesting for sure.