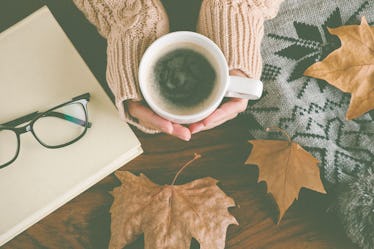 Here's What Your Go-To Fall Starbucks Drink Reveals About You
Can I get a passion tea lemonade with half the sweetener? Most of us have a Starbucks order, and it seemingly changes with the weather. Summer is all about those iced coffees and throwing twists of vanilla into your espresso. Winter always calls for something hot, like a steaming green tea latte or peppermint-infused item off the seasonal menu. Over the years, you've perfected your order and the art of telling the barista what you want. Let's be honest: It can be a mouthful. But, do you know what your favorite fall Starbucks drinks says about you?
Pumpkin Spice Latte season is right around the corner. You can barely contain your excitement, and already have your reusable cup ready to go. One day, you'll walk in and your usual barista will give you the good news. It'll be the greatest reunion of all time, if I do say so myself.
Truth is, this coffee chain has become quite the part of your morning routine, to the point where you're very aware of any changes. You're up-to-date on the pink drink and other secret items that are on the menu. You were all over social media when Starbucks announced it'll be switching from straws to lids, and will always get behind a company that is eco-friendly. Let me tell you something you don't know, then: Your favorite fall drink says so much about you, right down to the caramel swirl. Here's the scoop.