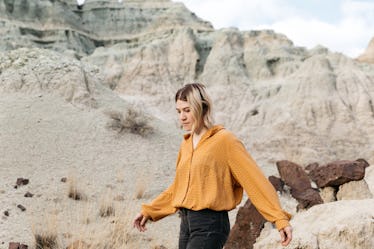 The Girl Who's Always Down For Adventure Doesn't Worry About These 7 Things
Adventure is out there. If you're feeling stuck in your life, odds are, you need a change in your surroundings. You've somehow found yourself settled in a place where you're not truly happy, and need to do something different to create a spark in your soul. Maybe you moved back to your hometown after college, or relocated to a city that isn't quite your vibe. Whatever your situation may be, you could take a lot of tips from the girl who likes adventure. Her life is seemingly never dull, and you're tired of having a thousand worries in this world.
For some, the comfort of home is always enough. They could spend hours hanging out on the couch, and are content with their usual routine filled with coffee and good conversation. But for others, inspiration runs out when they're in a single spot for too long. Wanderlust becomes too big to bear, and suddenly they're booking plane tickets to tropical places and exotic countries in hopes of finding something more.
Personally, I'm one of those people who's always looking for adventure. Being a Sagittarius who studied abroad means that I have a few stamps in my passport, but my travels are far from over. I understand the girl who likes adventure, and her constant craving for experience. Sometimes it's just better to follow your feet, and see where you'll go. This girl doesn't worry about these seven things, and she's much better off for it.