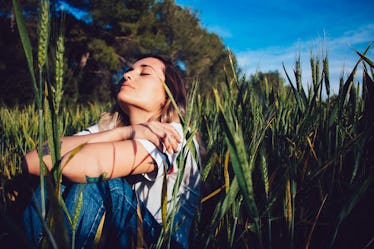 The One Instagram Hotspot You Should Travel To This Year, Based On Your Zodiac Sign
Wanderlust has taken over social media, and nowadays, you're not sure where to start on your bucket list. Your favorite bloggers have been booking trips left and right, and new hotspots are making their way onto your feed. Should you just stop everything and travel? (That may not be the worst idea.) Narrowing down your options will definitely be key, and you'll want to take the photo opportunities into consideration, too. The Instagram hotspot to travel to this year may even be based on your zodiac sign. Who knew that there's one place in this world that will speak to your soul and style on social media?
Your wanderlust probably didn't need any extra encouragement. But, the universe decided that there's nothing wrong with adding even more to your bucket list. Right now, places like the beautiful beaches of Thailand and the vast deserts just outside of Morocco are taking top priority. You're daydreaming about the pictures you could get in cities that never sleep, and amongst the evergreens of the Pacific Northwest. Well, what are you waiting for?
At this point, it's not worth waiting around for the perfect time to go to these places. You need to book those plane tickets, and pack your suitcase, too. Don't forget your passport, because you never know where you may go. Still not convinced? Well, according to the universe, you should check out at least one hotspot just for the 'Gram.