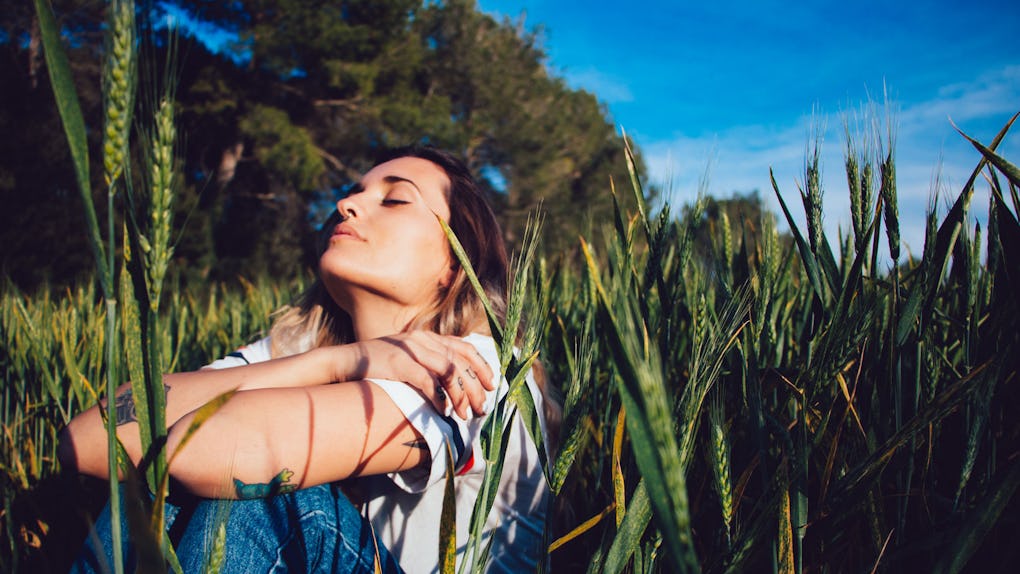 Image by Susana Ramírez, Stocksy
The Instagram Hotspot To Travel To This Year, Based On Your Zodiac Sign
Wanderlust has taken over social media, and nowadays, you're not sure where to start on your bucket list. Your favorite bloggers have been booking trips left and right, and new hotspots are making their way onto your feed. Should you just stop everything and travel? (That may not be the worst idea.) Narrowing down your options will definitely be key, and you'll want to take the photo opportunities into consideration, too. The Instagram hotspot to travel to this year may even be based on your zodiac sign. Who knew that there's one place in this world that will speak to your soul and style on social media?
Your wanderlust probably didn't need any extra encouragement. But, the universe decided that there's nothing wrong with adding even more to your bucket list. Right now, places like the beautiful beaches of Thailand and the vast deserts just outside of Morocco are taking top priority. You're daydreaming about the pictures you could get in cities that never sleep, and amongst the evergreens of the Pacific Northwest. Well, what are you waiting for?
At this point, it's not worth waiting around for the perfect time to go to these places. You need to book those plane tickets, and pack your suitcase, too. Don't forget your passport, because you never know where you may go. Still not convinced? Well, according to the universe, you should check out at least one hotspot just for the 'Gram.
Aries: The Brooklyn Bridge
An Aries girl isn't afraid of the hustle and bustle in life. In fact, if this is your star sign, you tend to seek out challenging situations and busy streets. You love the energy of places like New York City, and surrounding yourself with bright lights and endless possibilities. The Big Apple has so many Instagram-worthy spots, but the Brooklyn Bridge is arguably the most #artsy.
Snap a pic from down below, or bring your camera on the well-beaten path. With the skyline (and possibly a sunset) in the background, you really can't go wrong.
Taurus: The Louvre
Pull out your most fashionable outfit, Taurus, because you're headed to Paris. This city is known for being so chic, and you won't be able to see everything in just one trip. But, you should definitely make the Louvre a priority if you're going purely for the 'Gram.
This museum is so iconic, thanks to the Mona Lisa and the Carters' most recent music video. You could pose outside with the glass pyramid, or get a pic alongside some of the famous art (without flash, of course!) For you star sign, this place is a daydream, because you love surrounding yourself with lots of love and beauty.
Gemini: Coachella's Ferris Wheel
Gemini, your Instagram is probably already #goals. You put so much thought into your content, and finding trendy places to snap a cute pic. The first thing you do every morning is open up the app, and catch up on the content from your favorite bloggers. They're posing in desert hotspots and soaking up the sun along the coast of California. Combine the vibes of those places at Coachella.
Music festival season is when Instagram is probably the most active (in my personal opinion). Fashionistas and Lana del Rey fans flock to the stage and, of course, the Ferris wheel, for a weekend well-spent. This year, snag a ticket and head to the desert. You know you're curious to see what the hype is all about.
Cancer: Banff National Park
There's so much beauty on this planet, Cancer, and you want to be surrounded by it all. So, this year, plan a trip to Banff National Park in Canada. This spot is sort of a natural wonder, and will spark your imagination for some pretty sweet pics.
You'll want to go hiking amongst the mountains, and take at least one shot of the evergreens. Did I mention that the water of Lake Louise is bright blue? Try and keep your feet on the ground when you go here, and not let your mind wander to another atmosphere.
Leo: Paul Smith's Pink Wall
Leo, you're so bright and bubbly. Especially in the summertime, you're always so positive and a ray of sunshine on a cloudy day. To your friends, you're the social one in the group. You're always the first to spark conversation in the group chat, and love to hit the beach with your besties. A place like Los Angeles is fit for someone like you (and your social media feed).
By now, you've likely heard of all the Instagrammable spots in this city that's filled with dreamers. There's the Hollywood sign and Rodeo Drive. But please focus your lens on the lovely walls that line Melrose Avenue. Paul Smith's Pink Wall, in particular, will be a pop of color for your followers, and bring all the attention to your profile.
Virgo: Horseshoe Bend
You don't do drama, Virgo. When all of your friends are talking about the latest "he said, she said," you're in the background just sipping some lemon water instead of that tea. Truth is, you're just incredibly down-to-Earth, and have too much going on to deal with the petty things in life. You're able to see the big picture, which is why you should hop on a plane to Horseshoe Bend.
One day, you want to see every single national park, and this will be a pretty good place to start on that extensive bucket list. You'll spend an afternoon snapping vibrant pics in Antelope Canyon, which is nearby, and then take a tour to see the beauty of Arizona.
Libra: James Bond Island
Have you ever heard of James Bond? Well, Libra, you'd probably be best friends with the British spy, because you're both trying to keep the peace. You love when the stars align, and your life feels like it's in sync. Your friends always come to you for sound advice, but also know that you won't make their big decisions. (Let's be honest: You can be a bit indecisive at times.)
The universe decided that this island is everything you've been looking for. When life gets stressful, you want nothing more than to take a solo beach trip and find some new scenery. Why don't you buy some plane tickets to Thailand, and post a picture from this sweet spot that's totally Instagram-worthy?
Scorpio: Cinderella's Castle
Every picture you post is a Polaroid, Scorpio. You just want your life to feel like a movie, or a vintage film. Growing up, you were obsessed with fairytales and stories that ended in happily ever after. Where's Prince Eric to sweep you off your feet?
When it comes to social media, the universe knew exactly where you should go this year. A place like the Magic Kingdom is perfect for a daydreamer like you, who's constantly searching for their soulmate and glass slipper. You'll walk down Main Street and stand in front of Cinderella's Castle. Don't forget your Minnie Mouse ears for the most picture-perfect post!
Sagittarius: Skógafoss Waterfall
Being a Sagittarius means you're never in one place for too long. You're constantly buying plane tickets, or at least checking out new coffee shops and places for brunch in your hometown. Your life is an adventure, and you fully plan on following your wanderlust wherever it may go.
Showing off your adventurous side on social media is a must. You can't settle for posing in a field of flowers or using a self-timer in your backyard. Instead, you need to chase some waterfalls in Iceland, particularly Skógafoss. Located along the South Coast, this spot is a hotspot for bloggers and their bold imaginations. Get creative when you go here, and swoon over the beauty around you.
Capricorn: Positano, Italy
Put yourself in Positano, Capricorn, for a picture that will be beachy and beautiful. Your star sign is all about sticking to the tried and true. You're adventurous at times, but love being a tourist and going into every trip with a game plan. Before you hop on the plane, you'll spend months scrolling through Instagram and Pinterest, looking for travel guides. You want to go into this experience with some inspiration, even though you'll be in awe when you see such a magical place in person.
The Amalfi Coast is known for its salty water and sweetly stacked houses on the cliffside. Take your camera into the water for a pic, or try and find a new angle along the shore. You won't be disappointed with the #artsy outcome.
Aquarius: Philadelphia's Magic Gardens
You find inspiration everywhere you go, Aquarius. You're just so resourceful, and will find beauty in even the most average places. Although you love hopping on planes to faraway lands, you want to lots of exploring in the cities that are closer to home. You'd love to find murals and mosaics to pose with, and be a trendsetter on the 'Gram.
Philadelphia's Magic Gardens should be your destination, and there's so much beauty that you're missing out on if you don't check it out for yourself. Every corner is another cool spot to take a picture, and you'll find a wall to call your own. When you get home, you'll start editing your shots and maybe purchase a preset pack for Lightroom. Are you a blogger, yet?
Pisces: Mystic Hot Springs
Pisces, you're not particularly a big fan of social media. In fact, you rarely post, let alone go out into the world and seek out a spot for a picture. But, you'll want to make an exception to your usual routine for the Mystic Hot Springs in Utah.
Bloggers and photographers all over the world are adventuring to this hotspot just to soak up some nature. They're posing in the tubs and staring out into the red rock in the area. You have an artistic side, and it's time that you show it. Wander into the world with a camera, and see what you can capture, too. Let's be honest: The universe would want you to do it, if only for the 'Gram.