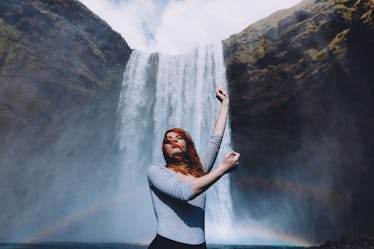 World Travelers Visit This 1 Spot For The Waterfalls, Because It's Just So Dreamy
Reality can get a little boring. You wake up in the morning and make that same 'ole cup of coffee. You scroll through social media, and check in on all of your favorite bloggers. They're adventuring across the globe, and soaking up the sun on these beautiful, remote beaches. (What that life must be like, huh?) Well, let me give you the scoop: World travelers visit this one spot that's covered in waterfalls, because it's just so dreamy. Yes, you heard that right — Iceland will feel like a total fairy tale. So, check out of reality for a second and get swept off your feet.
Truth is, this world is your oyster, and right now you're just settling for a basic shell. You're imagining yourself in these places, but not putting yourself there. Some of the dreamiest destinations are a bit far, or require hours spent on a plane. Personally, I've always wanted to go to Thailand, but it's quite the hike to get to the other side of the globe.
Iceland can be affordable, though, with flights as cheap as $99 (Now, that's a deal.) This country will leave you, and your Instagram, with that post-travel glow. From the cities that date back to the Vikings, to the bright blue lagoons and hot springs — it's a place straight from your daydreams. Skógafoss, in particular, is the one waterfall that every true traveler is checking off their bucket list. Excuse me, TLC? Can we make an exception?
What's the scoop on Skógafoss?
Skógafoss is one of Iceland's largest waterfalls, and probably the dreamiest (in my personal opinion.) According to Guide To Iceland, this natural wonder drops about 200 feet, creating the perfect backdrop for all of your travel 'Grams. When the sun in shining, you can expect the rays to create at least one rainbow, that's beyond worthy of a photo shoot. The space around the waterfall is pretty flat, so you can even get an up-close and personal view. Just be sure your camera doesn't get drenched!
Situated on the Skógá River, it's a perfect spot to stop at when you're adventuring along the southern coast of the country. Typically, when travelers go to Iceland, they stay in the capital city of Reykjavik. According to VisitReykjavik.com, it's known for its electric nightlife and proximity to all-things nature. You can check out the museums during the day, or take a volcano tour. But, the main attraction will still be the Skógafoss waterfall that's less than two hours away from this culture hub.
What other dreamy spots are there in Iceland?
Next to Skógafoss, travelers love checking out the Blue Lagoon and Diamond Beach. These spots bring you back down-to-Earth, in a spa that was created purely by nature. To soak in the lagoon, you'll want to get a day pass, that includes a mud mask. The scenery alone will bring you so much serenity, but in case that wasn't enough, you'll treat yourself to a drink and some relaxation time, too.
Afterwards, you should hop back in the car and head to the beach, that's located about six hours away from Reykjavik, according to Extreme Iceland. You'll see gigantic rocks of ice right on the shore, and icebergs out in the water.
Iceland is like its own planet, with so many dreamy spots that feel out-of-this-world. After getting off the plane, you'll want to spend a lot of your days searching for the waterfalls. Even if the weather is a bit cold, it'll be worth bundling up in too many blanket scarves just for the occasion. But, be sure to check out what else such a unique place has to offer. After all, nothing washes away reality, like the bright teal waters of a lovely lagoon.
What kind of pictures should you get for the 'Gram?
Every trip you go on, you have to think about the 'Gram. I mean, did you even go to Iceland if you didn't snap a picture next to a waterfall, or show your followers the beauty of the Blue Lagoon? When it comes to this trip, in particular, though, you'll want to get a bit artsy with your #content.
It's so easy to stick to those photo editing trends from the summer. But, something vintage won't necessarily fit with such a vibrant and vast place. Wear some bright colors, and show off your adventurous side. Those light leaks will look better with your cup of coffee on Monday morning, anyway.