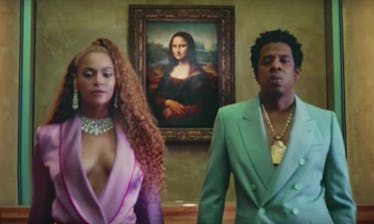 The Music Video For "Apesh*t" On 'Everything Is Love' Filmed In The Most Glam Place
YouTube
Surprise! Beyoncé dropped another album. And this time, it's a collaboration with her husband, JAY-Z. It's called Everything Is Love and there's one particular piece of it that already has the internet buzzing: the video for "Apesh*t" on Everything Is Love is a mindblowing masterpiece.
The setting for "Apesh*t" is a complete 180 from Beyoncé and JAY-Z's previous collaborations. This isn't the sandy beach you saw in "Drunk in Love." No, this time around, the A-list couple casually filmed in one of the most jaw-droppingly iconic places on the planet: The Louvre, the famed art museum in Paris.
In between shots of the couple decked out in extra fly pastel suits, the camera zooms in on famous European oil paintings, Greco-Roman sculptures, and Egyptian statues. Beyoncé and JAY-Z even sing in front of the Mona Lisa. And in the thought-provoking final shot, the couple turns away from the camera to gaze directly at the Mona Lisa. If you've ever taken an art history class, you'll probably recognize at least a few of the gorgeous works in this video. And if you haven't taken an art history class, don't worry — you'll definitely recognize two gorgeous people in this video: Mr. and Mrs. Carter.
Lyrically, "Apesh*t" is a track dedicated to the couple's lavish lifestyle as musical icons and their incredible financial success. It's a tribute to how far they've come. And yeah, it's absolutely the kind of song you want to blast when your paycheck hits your bank account on Friday and you need to turn up. Need a sample lyric? Part of the chorus goes, "I can't believe we made it / This is what we made, made / This is what we're thankful for / This is what we thank, thank / I can't believe we made it / This a different angle / Have you ever seen the crowd goin' apesh*t?""
The couple also name-drops luxury items including but not limited to:
a Lamborghini
a jet
a Phillippe Patek watch
a motorcade
G8 planes
Alexander Wang
So, yeah, the song is perfectly appropriate for the ultra-glamorous backdrop. This is not a song about living on a budget; this is a song that fully matches the outrageous decadence of one of the most stunning museums on the planet. It's a fitting match.
Per Just Jared, the video was filmed by director Ricky Saiz. This isn't the first time Saiz, the co-Head Designer at Supreme, has teamed up with Beyoncé. He also directed "Yoncé" off her eponymous 2013 album.
Interestingly enough, the video also includes shots of dancers clad in skin-colored athletic-wear that looks an awful lot like the clothes Kanye West makes for his line Yeezy. It's unclear if the dancers are actually wearing Yeezy or if they're simply styled in a similar manner. But given Beyoncé and JAY-Z's famous attention to detail and their complicated history with West (they didn't attend his wedding to Kim Kardashian, FYI), it's certainly a stylistic choice worth paying attention to.
According to Pitchfork, the Carters' new album is only available on TIDAL, the streaming service that JAY-Z co-owns. Everything Is Love dropped Saturday, June 16, which means you should thank the couple for giving you a valid reason to cancel your Saturday night plans and stay in to listen to the entire thing. While you're listening, you can also shop online for an orchid pantsuit, because thanks to Beyoncé, that is now the only item of clothing I have any interest in wearing. She looks amazing.
"Apesh*t" is a visual feast from start to finish. The song is like a sonic confidence boost and the stunning video takes those vibes to the next level. You'll want this one on repeat.