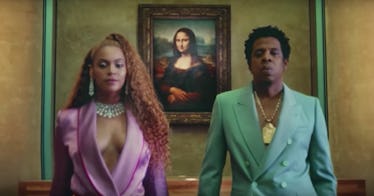 Beyoncé & JAY-Z Released A Collaborative Album & I Can't Wait To Listen
Guys, the moment has finally come: Queen Bey and her rapper husband have released a collaborative piece of work (yes, I'm serious). In case you're wondering, Beyoncé & JAY-Z's Everything Is Love album became available on Saturday, June 16, and it was the probably the best surprise ever. As a musician, I'm always down for a good collaboration — but teamwork between the Carters is a special surprise. As you could imagine, I can't wait to listen.
If you want to hear it, too, you should probably download Tidal. According to Pitchfork, Everything Is Love is only available on that specific streaming service, which JAY-Z co-owns (that makes sense). Apparently, Tidal has credited Beyoncé and JAY-Z's new piece of work to the Carters themselves, and I'm sure the couple has been working hard on their new music prior to the surprise release. Between touring, separate album releases, and writing their new project, there's no doubt in my mind that the power couple has had their hands full throughout the past year or so.
Writing a new album wasn't the only addition to their daily work schedule, though. The couple also released a music video for their track, "APES*T," which appears on the new album. The video hit the web the moment Everything Is Love came out, which makes this release a double whammy.
Wait! I'm sorry, this was a triple whammy, because the Carters also released a single on Saturday that isn't on their new album, per Pitchfork. The single is called "SALUD," and you can listen to is on Tidal. I don't know about you, but I'm about to cancel all of my Saturday night plans just so I can listen to all of this new music. Can you tell that I'm a little overwhelmed?
Their collaborative effort is making me a little curious, too. What inspired this teamwork, anyway? After Beyoncé's Lemonade release in 2016 and JAY-Z's 4:44 release in 2017, you'd think that the duo would have their hands full with their own artistic endeavors. Then again, this is the Carters we're talking about; it seems like they're constantly working on something new, and I'm so excited to know that they've finally worked together on a project.
If you're a true Beyoncé or JAY-Z fan, you might have seen the collaboration coming. In November 2017, JAY-Z admitted to The New York Times that he and Beyoncé had begun working together while they were working on their separate releases (4:44 and Lemonade). He said, "We were using our art almost like a therapy session. And we started making music together."
Well, I suppose the result was their new album, Everything Is Love. Can you say, "power couple"?
Their joint record isn't the only thing that makes Beyoncé and JAY-Z's relationship over-the-top adorable. As you probably know, the couple is currently on tour together, and will remain on tour until the fall. This leads me to ask one (very important) question: Will they sing their new songs on their current On The Run II tour, or will they save their new material for the next one? I guess only lucky concert attendees will find out.
Even if you're not planning on seeing Beyoncé and JAY-Z on tour, you can still listen to their new collaborative album on Tidal (make sure you have it downloaded, first). While you're at it, take a few minutes and watch their new music video for "APESH*T," and give their their new single a listen. This is a monumental moment in music history, so make sure you don't miss out on their collaboration. It's iconic, and very worth cancelling your Saturday night plans for.