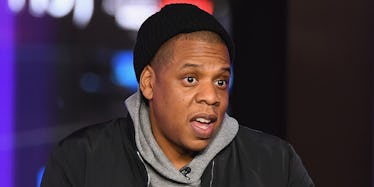 Jay Z Is Dropping New Album And The Title Has Major Meaning
Dave Kotinsky/Getty
Jay Z became a father of three when Beyoncé reportedly gave birth to twins earlier last week, and now he announced he's releasing an entirely new album on June 30 titled 4:44.
Ads for the uniquely named project started circulating earlier this month, but the ads were left intentionally ambiguous, as most things Beyoncé and Jay Z do are. It left fans confused and trying to figure out what the hell "4:44" is supposed to mean.
But this Sunday, June 18 (aka Father's Day), new ads for 4:44 were released featuring Oscar winner Mahershala Ali as a boxer and Danny Glover as his trainer.
The ad is a clip from a song on the album called "Adnis," according to Billboard. Adnis is the name of Jay Z's father, which sheds some light on the below lyrics rapped in the ad.
In the video, Jay Z can be heard saying,
Letter to my dad that I never wrote Speeches I prepared that I never spoke Words on a paper that I never read Prose is never penned, they stayed in my head
In the ad, Ali is seen hitting a punching bag that Glover is holding still, both looking concerned/stressed/I imagine are saying "Yo, do you think Jay will give us free Tidal subscriptions for this????" in their heads.
Billboards for 4:44 started popping up over the last couple of weeks with no other information on them. This new video has confirmed that the project is, indeed, a new Jay Z album, available exclusively on Tidal on June 30, 2017.
Fans have been wondering for weeks what the mysterious ads meant.
If you're a true Jay Z/Beyoncé stan, you know the significance of the number four. The couple is obsessed with it.
Both of them were born on the fourth of their respective birth months (Beyoncé is September 4, 1981, and Jay Z is December 4, 1969). They were married on April 4, 2008. Beyoncé's fourth studio album was called 4. They have a Roman numeral four (IV) tattooed on their ring fingers to go along with their wedding rings, and they got Blue's middle name, "Ivy," from the same Roman numeral they have tattooed on their hands. Beyoncé's fifth studio album, Beyoncé, was even released on December 13, 2013, and what is one plus three? Four.
So yeah, these two love the number four.
This led fans to think 4:44 was possibly the name of the long-awaited Beyoncé/Jay Z collab album. (PLEASE DO THIS, WE NEED THIS.)
Some believed 4:44 was the time of day the twins were born. And if that happened, holy f*cking sh*t, Beyoncé and Jay Z literally control the universe.
Whatever we can expect from this Jay Z album, fans are already connecting all the dots laid out in the album's clearly meticulously-planned rollout.
Seriously, there's an entire online forum on KanyeToThe dedicated to dissecting all of the clues Jay Z has put out.
If the video featuring Ali and Glover are any indication, I have a feeling 4:44 might be a visual album like Beyoncé's last two albums, Beyoncé and Lemonade.
Whether or not it will be a collection of music videos or a film with one narrative is something we'll just have to wait to find out.
Since we now know there's a song on the album about Jay Z's father with "Adnis," and we know the significance the number four has for the Carter family, it's probably safe to assume the album is going to be at least partially about fatherhood from the eyes of Jay Z, just like Beyoncé's last two albums addressed motherhood and marriage.
But one thing's for sure, if this is a full visual album, THERE BETTER BE A VIDEO OF THE TWINS.
I WANT IMAGES AND I WANT NAMES. YOUR MOVE, JAY Z.
Also, congratulations on your new babies I'm sure they're amazing and perfect and beautiful and I'm so happy for you all I could cry please give Beyoncé my love and tell Blue she's already an amazing big sister and also please forgive me for being so weird in this last sentence OK bye.