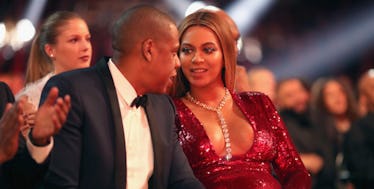 Twitter Is Coming Up With Names For Beyonce's Twins And They're Brilliant
Christopher Polk/Getty Images for NARAS
THE TWINS ARE HERE. BEYONCÉ'S TWINS ARE HERE. THEY ARE HERE IN THE WORLD.
Is it just me or does the entire planet feel more pure now?
Beyoncé and Jay Z welcomed their twins — who are reportedly a boy and a girl — earlier last week, according to reports, and I would like to thank all of my friends who texted me asking if I was breathing after the news broke. Your love and support meant everything. And no, I wasn't breathing.
The tricky thing here is Beyoncé and Jay Z haven't made any announcements/statements themselves, they just confirmed the rumors that the twins were, in fact, delivered the week of June 12. So that means three things:
1. We can't be 100 percent sure the babies are a boy and a girl.
2. We don't know the names.
3. The BeyHive will believe NONE of this until it comes straight from the Carters' mouths.
Beyoncé and Solange's dad, Mathew Knowles, confirmed the arrival of the twins on Twitter, and the BeyHive dragged him for it. They DRAGGED him.
They felt it was only Bey and Jay's place to announce the arrival of their babies, and that his announcement was most likely not approved by the queen. So they're still hanging tight waiting for Bey to say something herself.
But outside of the dragging, the general skepticism, and the impatient wait for Beyoncé's inevitable Instagram announcement, Twitter has been coming up with name ideas for the twins and I'm here for it.
Some of the ideas are actually adorable, and some are just funny/not even remotely possible. I also had my co-workers ask their dads what they think Bey and Jay should name the twins, and their responses were the most dad ever.
My dad's answer was Red Vine and Orange Leaf, so this name game has been fun.
Here's our official contribution to this dialogue:
But here's what the Hive is saying:
Sticking with the colored foliage theme here.
A homage to Prince would be EVERYTHING.
And so would a homage to herself, because she deserves it.
Destiny's Child Part Two is not going to happen.
This would be bada**.
Please!!!!
Gonna label this one under "not going to happen, still funny tho."
Yes, literally, please, we need those replaced anyway. Just cancel the current ones and replace them with Beyoncé's twins. They were born more prepared.
This one is actually my favorite.
If you didn't know, Beyoncé is from Houston and Jay Z is from Brooklyn, so Houston and Brooklyn would be some objectively wonderful, gender-neutral names for the twins who will end all of the Gemini hate, but honestly anything Bey and Jay come up with will be wonderful and amazing.
I JUST WANT TO KNOW THE NAMES, BEY. According to TMZ, Bey had to stay at the hospital a little longer than planned after the birth due to a "minor issue," but all seems to be fine now.
Now all that's left to do is wait.
Congratulations, my queen.