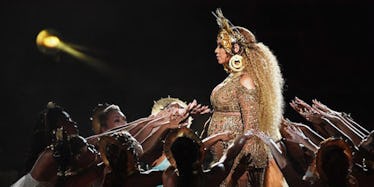 Beyoncé Gives Birth To A Boy And A Girl And Now We Need Their Names — REPORT
Kevin Winter/Getty Images for NARAS
Beyoncé has gifted us with the miracle we all needed — her twins.
Reports began circulating on Saturday night that Beyoncé and Jay Z had welcomed their twins "earlier this week," and we cannot contain our excitement.
We're not crying, you're crying.
Naturally, once the news broke — though the singer and her husband have yet to confirm the birth of their babies — we were dying to know their names. There's a lot at stake here, people, and we need the 4-1-1.
According to reports from both TMZ and US Weekly, the Carter clan welcomed a baby boy and girl on June 12. Blue Ivy is a big sis, and we are so excited about the family's new little fella and lady!
Fans were getting concerned if these Gemini babies would share a birthday with President Trump on June 14 (in which case, it wouldn't be his birthday anymore).
However, since reports have circulated that the twins were born on June 12, former President George H.W. Bush, Dave Franco, Victoria's Secret model Adriana Lima, and Louisa Gummer, Meryl Streep's daughter, are lucky enough to share the same birthday as the Carter duo.
TMZ also reported that Beyoncé wasn't immediately released due to a "minor issue," so we're hoping she is getting the rest she needs.
Though many are celebrating, there are those who won't believe a single report until they hear it from the Queen herself.
Beyoncé's babies are here when Beyoncé says they are here.
Let's not forget about that epic pregnancy announcement at the start of Black History Month that read,
We would like to share our love and happiness. We have been blessed two times over. We are incredibly grateful that our family will be growing by two, and we thank you for your well wishes. — The Carters
Well, since today is Father's Day, maybe we'll get the confirmation we're so patiently (read: not patiently) waiting for.
Elite Daily reached out to reps of Beyoncé and Jay Z but did not hear back at the time of publication.