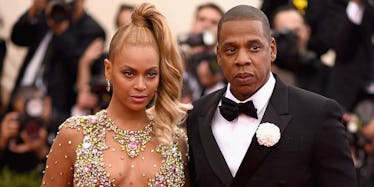 Beyonce's Twins Could Share A Birthday With Trump, So Let's Hope For The Best
Getty Images
The day we've all been waiting for may have finally arrived: Beyonce gave birth to her twins, Us Weekly reported, though the singer and Jay Z have yet to confirm the news themselves. The NY Daily News has also reported that Beyonce's twins were born earlier this week, according to unnamed sources. Elite Daily reached out to Beyonce and Jay Z's representatives for comment on the reports and did not receive a response at time of publication.
At this time, not many details are known, including when this actually happened. Both websites are reporting that the newest addition to the Knowles-Carter family arrived "earlier this week," without getting any more specific. But we need to know that particular piece of information ASAP, because there are a few people the twins could share a birthday with, some (much) better than others.
It should first be noted, however, that matter which day this week the twins were born, they're Geminis, because of course Beyoncé's children are already savvy enough to know what's best for their brand.
Now, let's look back at the past week to see who these twins could share a birthday with, depending on when they first came into the world.
Monday, June 12: If the twins were born on this day, they'd share a birthday with another president, George H.W. Bush. Other people born on this day include actor Dave Franco, Victoria's Secret model Adriana Lima, and another celebrity kid: Louisa Gummer, the daughter of Meryl Streep.
Tuesday, June 13: In a pretty amazing coincidence, if Bey and Jay's children were born on Tuesday, they'd share a birthday with arguably the most famous twins until now: Mary-Kate and Ashley Olsen. Am I the only person really hoping that's the case?
Wednesday, June 14: This is it. This is the day we all need to collectively hope was not the day. Because on Wednesday, President Donald Trump turned 71. If this is actually when Bey blessed the world with more of her genes, let's just try to see it as a positive thing — she's reclaiming June 14.
Thursday, June 15: This would be another crazy coincidence, because June 15 marks the birthday of the only other child with genes as #blessed as Blue Ivy and the twins: North West. That's right, the daughter of Kanye West and Kim Kardashian might share a birthday with the children of Jay Z and Beyoncé. If that isn't a musical supergroup origin story in the making, I don't know what is.
Friday, June 16: Finally, if by "earlier this week" Us Weekly and the NY Daily News actually meant yesterday, the twins would share a birthday with none other than Tupac Shakur. Talk about rap royalty.
We'll have to wait for Beyoncè to share the details of their twins' birth, but they certainly chose quite a week to enter the world.