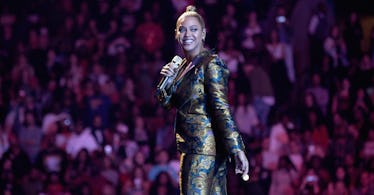 Beyonce Reportedly Gave Birth To Twin Geminis And People Are Praying For Her
Larry Busacca/Getty Images for TIDAL
OMG. It's happening. The latest Carter babies are finally (reportedly) here! POP THE CHAMPAGNE!
Beyoncé has apparently given birth to twin babies, according to a new report from Us Weekly.
Elite Daily reached out for reps for both Bey and Jay, but did not hear back at the time of publication.
Everything Beyoncé does in general is legendary. Remember her epic pregnancy Instagram announcement on the first day of Black History Month?
Her caption read:
We would like to share our love and happiness. We have been blessed two times over. We are incredibly grateful that our family will be growing by two, and we thank you for your well wishes. – The Carters
And who could forget that time she slayed her performance at the 2017 Grammy Awards while pregnant?
But now, Queen B has taken it to the next level. Beyoncé apparently gave birth this week, according to Us Weekly, which would make her babies Geminis. The word Gemini is actually Latin for "twins."
Gemini is an air sign, and Geminis are known to be adaptable, curious, and affectionate. However, they can suddenly get serious — and their weaknesses include indecisiveness, nervousness, and the inability to be alone.
Other famous Geminis include North and Kanye West, President Donald Trump, Johnny Depp, and Mary-Kate and Ashley Olsen.
Fans were quick to point out that with two Gemini babies and those ~ serious ~ traits, Beyoncé and Jay Z are in for some double trouble.
Other fans were happy at the idea the twins could be Geminis. Maybe this will end the Gemini hate?!
Either way, we can't wait to hear from B herself about her latest additions to the Carter family. We. Need. DETAILS. Do I smell a Father's Day Instagram post?
Congratulations to Beyoncé, Jay Z, big sister Blue Ivy, and the rest of the Carter family.