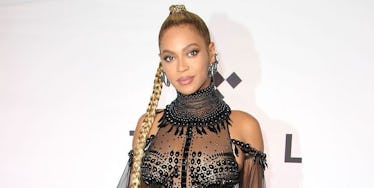 Beyoncé Just Announced She's Pregnant With Twins In Half-Naked Instagram Post
REX/Shutterstock
HOLY CRAP. I AM GOING TO PASS OUT. IS THIS REAL LIFE? HOLY, HOLY CRAP.
I need somebody to wrap their arms around me ASAP because I am freaking the hell out.
Beyoncé, Queen Bey, our beautiful angel and blessed savior, IS PREGNANT WITH TWINS!
I may vomit while typing this because I just can't handle the news.
I know it sounds unbelievable, but Beyoncé announced it herself on Instagram. It's coming from THE QUEEN, so yeah, we know it's real.
On February 1, around 1:40 pm, Queen Bey shared the message on social media with her followers.
She added a strange, edited photo of her holding her pregnant belly surrounded by wreaths of flowers.
It's a little bit odd, but we aren't judging. THIS IS A JUDGEMENT FREE ZONE, BEY. WE LOVE EVERYTHING YOU DO!
YOU LOOK GORGEOUS... AND PREGNANT. WTF, YOU'RE PREGNANT?!
Beyoncé captioned the photo,
We would like to share our love and happiness. We have been blessed two times over. We are incredibly grateful that our family will be growing by two, and we thank you for your well wishes. - The Carters
YOU GUYS!!!! BEY IS HAVING TWINS. Blue Ivy is a big sister! Trump isn't president! The world isn't over!
This is honestly a pretty epic way to announce you're pregnant.
Instead of doing something dumb like whack a piñata filled with positive pregnancy tests, Beyonce blessed the world with a magical photo shoot of her dressed as a fairy princess.
Bow down, everyone. Bow down.
Obviously, people on social media are freaking out. We are saved, you guys. Bey's babies aren't even born and they've saved us already.
According to these people, Beyoncé's Instagram reached 1 million likes in 20 minutes. PEOPLE LOVE BEY AND PEOPLE LOVE BEY-BEYS.
Haha, Bey-Beys... get it? Like, BABIES? OK, I'm done here.
I am so happy for Beyoncé, Jay Z and the entire Carter family. If you guys need a babysitter, please let me know.