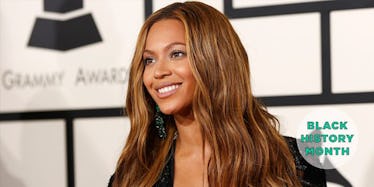 Here's Why The Timing Of Beyoncé's Pregnancy Announcement Is So Important
REUTERS
It's true: Beyoncé is pregnant with twins. You are not dreaming!
This means 5-year-old Blue Ivy is getting not one, but TWO younger siblings making her a big sister. Beyoncé took to Instagram on February 1 to announce the exciting news with a new photo of her baby bump.
The photo of the glowing star is captioned,
We would like to share our love and happiness. We have been blessed two times over. We are incredibly grateful that our family will be growing by two, and we thank you for your well wishes. - The Carters
Jay Z must be so hyped up...
What a way to usher in the new year!
Of course, the news had the Beyhive jumping for absolute joy on every social media platform.
But there's something else to celebrate, too... Can you guess what it is?
Beyoncé's pregnancy announcement landed on the very first day of Black History Month!
Twitter completely LOST it after realizing the coincidence.
Loyal members of the Beyhive even began speculating what Beyoncé and Jay Z's thought process was like when deciding when to announce her pregnancy.
I'll admit, that is pretty impeccable timing by Queen Bey and Mr. Carter. I think it's called "black excellence."
This is history in the making... literally.
Fans are even joking Beyoncé basically "invented" Black History Month after making the surprising announcement.
Not only will the month of February be dedicated to honoring and celebrating the inspiring black American leaders of the past and present, but there are now two unborn superstar twins to celebrate, too!
As far the history of Black History Month goes, an excerpt from the History Channel reads,
The event grew out of 'Negro History Week,' the brainchild of noted historian Carter G. Woodson and other prominent African Americans. Since 1976, every U.S. president has officially designated the month of February as Black History Month. Other countries around the world, including Canada and the United Kingdom, also devote a month to celebrating black history.
And now, Beyoncé's made her mark.
Let's face it: This isn't just any ole celebrity pregnancy announcement -- this is BLACK HISTORY. Congratulations to Jay Z and Beyoncé! May you continue to be the world's collective #FamilyGoals.