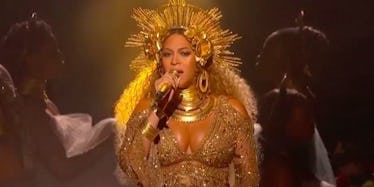 Pregnant Beyoncé Danced Better Than You Ever Will In Her Grammys Performance
CBS
Beyoncé just gave her 2017 Grammy Awards performance pregnant with twins, which means I am writing this article from beyond the grave.
Seriously, you guys, I am dead after watching that. How is she real?
The 35-year-old singer is nominated for nine Grammy Awards tonight for her visual album Lemonade, including Album, Record and Song of the Year.
She's picked up two wins for best music video for "Formation" and Best Urban Contemporary Album so far, but as far as I'm concerned, the live performance she gave won every award that has ever existed.
Bey came out dressed in a long, golden gown and a crown that reaffirmed her status as the queen.
She started out with an ethereal pre-recorded segment.
Then she launched into "Love Drought," complete with dance moves with CHAIRS.
Not gonna lie, that chair move made me pretty nervous for those babies.
But, of course, because she's Bey, she slayed it.
Finally, she brought the house down with a beautiful performance of her ballad "Sandcastles."
Jay Z was obviously incredibly proud to be married to such royalty.
And even Blue Ivy couldn't hold back her smile for her mom.
AND THAT'S HOW YOU SLAY A GRAMMYS PERFORMANCE WITH TWO BABIES INSIDE YOU.
This whole religious experience was preceded by an introduction from Beyoncé's mom, Tina Lawson.
She said,
What makes me most proud and why why I'm here tonight to introduce Beyoncé is the devotion and love I see in her for my daughter, and the way she has always expressed love to all of those around her. I believe she earned nine Grammy nominations for her Lemonade album because of all of that and more. It's evident in her powerful words and music.
Can you imagining raising your child and having the child turn into BEYONCÉ?
Seriously, well done, Tina. Well done.