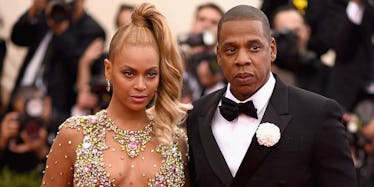 Beyoncé's Dad Confirms Her Twins' Arrival, So We Can Officially Celebrate Now
Getty Images
In case you were hesitant to pop out the bubbly in celebration of Beyoncé's twins, rest assured that Papa Knowles has confirmed that they have arrived.
He took to Twitter on Father's Day to share the good news with a "Happy Birthday" post of colorful balloons. His message read, "They're here! #beyonce #twins #jayz #happybirthday."
We know you're excited to hear the good news from Queen Bey herself, but the next best thing (after Jay Z) would be Bey's parents, so take comfort in the fact that they really are here.
According to reports from both TMZ and US Weekly, the Carter clan welcomed a baby boy and girl on June 12, though no one in the fam has confirmed their gender or names (just their existence).
For some, even a tweet from Mathew Knowles was not enough to solidify the good news.
They won't celebrate until it comes from the mouth of Queen Bey. They need a confirmation as epic as Bey's pregnancy announcement.
According to TMZ, Bey remained in the hospital after a "minor issue," so it's understandable if she hasn't gifted us with another epic announcement on social media just yet. She definitely needs her rest, so we totally understand.
If the reports are accurate and the twins were born on June 12, they share a birthday with former President George H.W. Bush, Dave Franco, Victoria's Secret model Adriana Lima, and Louisa Gummer, the daughter of Meryl Streep. Or should we say they now share a birthday with Bey's twins?
We are super excited to see how the beginning of the twins' lives unfold, and we're keeping a watchful eye on social media to capture it all. Congrats to the Carter clan!
Elite Daily reached out to reps of Beyoncé and Jay Z but did not hear back at the time of publication.