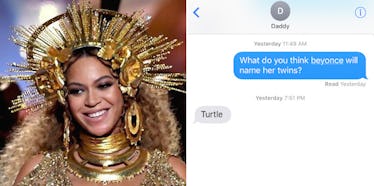 We Asked Our Dads To Name Beyonce's Twins And Their Answers Are So, So Dad
Getty Images/Allison Berry
Warning: Dad jokes ahead. Get ready for a lot of cringing.
As you all well know, Beyoncé has either already brought new life into the world this week, or she's about to.
Earlier this week, the BeyHive went crazy due to an Instagram post from celebrity hair stylist, Chuck Amos. It was a selfie of him and the Queen with the caption, "Hang in there, Mama! Love you @Beyonce!!," leading the Hive to believe she was in labor.
THE WOMAN IS NINE MONTHS PREGNANT. WHAT WOULD SHE NEED TO "HANG IN THERE" FOR RIGHT NOW OTHER THAN CHILDBIRTH? THE DEFENSE RESTS.
This all went down on Trump's birthday, so that was funny. And also probably intentional on Beyoncé's part. You know, since she's the Creative Director of the universe and everything.
But she STILL hasn't confirmed whether or not she and Jay Z's twins have arrived.
So while we've been (not even close to) patiently waiting for the arrival of the twins to end all twins, we at Elite Daily decided to ask dads what they think Beyoncé should name her twins as a fun lil' Father's Day thing (read: I'm losing my goddamn mind waiting for these babies to arrive, I need a distraction).
Here are their responses.
Brace yourselves. Dad jokes are coming.
This dad thinks she should give the twins some proper British names.
This would be cute, TBH, but with an older sibling named Blue Ivy, the names of these twins need to be much more extra.
This dad thinks she should name the twins after his own daughter.
Beyoncé wouldn't even go to Kim and Kanye's wedding, so unfortunately, for this dad, there's no way she would choose K names.
This is my best friend's dad, and he didn't try that hard. Come on, Mr. Ganey! Where's the creativity?!
But my friend's car broke down at my house yesterday and he came to fix it right away then we all ate some mac and cheese, so we good.
This dad couldn't come to the phone right now, so mom answered instead.
What do you MEAN he didn't know Beyoncé was pregnant?! I'M INSULTED.
This dad really had to think about this one.
I literally have no idea where these ideas came from, but this is very dad.
This dad went classic dad.
CLASSIC dad.
This dad knows what he likes.
HE LIKES THEM, OK?
This dad made an EXCELLENT choice and clearly knows how to meme.
Beyoncé pregnant with one baby: Beyonce.
Beyoncé pregnant with twins: Beytwice.
This dad is probably right.
Beyoncé will most definitely not be naming one of her children Susan.
This dad thinks one of the babies should be named after him (Sami). He also seems to be a member of the BeyHive!!!
LOVE IT. ALL DADS WELCOME IN THE HIVE!!!
This dad clearly is a fan of Lemonade.
In accordance with the laws of the universe.
This dad clearly didn't hear what I said about the Kardashians!!!
Directions on a compass are exclusively Kardashian names!!!
This dad might have come up with the funniest thing I have ever f*cking read.
I'm done. Thank you for this, co-worker's dad.
And this, this is my dad.
RED VINE. AND ORANGE LEAF.
THE GREATEST OF THEM ALL. NOT ONLY DID HE REMEMBER BLUE IVY'S NAME, BUT HE ALSO STUCK WITH THE COLORED FOLIAGE THEME.
My dad is the greatest dad on the planet with the greatest dad jokes of all time, and that's science.
Happy Father's Day to Jay Z and all of the dads out there, but mostly mine.