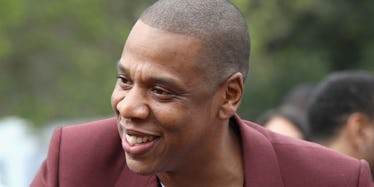 These Tweets And Memes About JAY-Z's '4:44' Album Are Seriously Amazing
Ari Perilstein/Getty Images for Roc Nation
At 12:00 a.m. on Friday, June 30, JAY-Z released his new album, 4:44, and the world lost its mind.
The album itself is an open, honest narrative about JAY's experience as a black man, being a father, and of course, cheating on Beyoncé...
I know. It hurts just as much every time I hear it, too.
JAY visited with iHeartRadio and broke down each of the 10 tracks on the album, offering this explanation of the song "4:44":
'4:44' is a song that I wrote, and it's the crux of the album, just right in the middle of the album. And I woke up, literally, at 4:44 in the morning, 4:44 a.m., to write this song. So, it became the title of the album and everything. It's the title track because it's such a powerful song, and I just believe one of the best songs I've ever written.
There is truly so much to unpack here. From "Becky with the good hair," to fighting with Solange in an elevator, JAY leaves no scandalous stone unturned.
It's almost too much for the world to take.
Here are the best tweets and memes created about the album drop so far.
This is what it's like when you first listen to the album.
And this is what it's like not having Tidal...
Everyone is having an emotional journey.
And Beyoncé and JAY are probably just counting their money like...
What a time to be alive, America.
Of course, 4:44 is basically a direct response to Beyoncé's Lemonade album, causing hot, wide debate over who is making money off who, and if love is even real at all.
To which I say: Hey, Haters! When you create your own music empire and take over the world with your spouse and live a life of fame and responsibility like nothing any other person on the planet will ever know, then you can weigh in.
Until then, you catch 4:44 on Tidal and enjoy the ride.