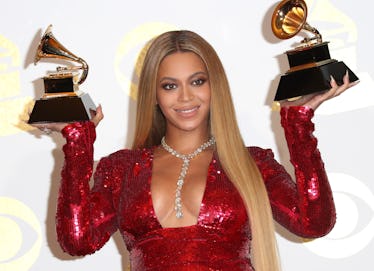 Beyoncé Announced She's Going On Tour With JAY-Z In An Epic Way & Fans Can't Wait – UPDATE
Frederick M. Brown/Getty Images Entertainment/Getty Images
This is not a drill. I repeat this is not a drill. Queen Bey took to Instagram on March 12 to share three — THREE! — stunning black-and-white images labelled, simply, "OTR II." You know what this means, you guys? It means it's official: Beyoncé and JAY-Z's On The Run 2 tour is happening, and I am totally losing my mind!
UPDATE: JAY-Z and Beyonce have added more tour dates for On The Run 2. They are as follows: Amsterdam on June 20, Washington, D.C. on July 27, East Rutherford, NJ on Aug. 3, Chicago on Aug. 11, Columbus, OH on Aug. 16, Columbia, SC on Aug. 21, Atlanta on Aug. 26, Los Angeles on Sept. 23, and Seattle on Oct. 4.
EARLIER: The power couple's first joint OTR tour took place way back in 2014, and rumors of another one have been swirling big time since last week, when Ticketmaster and Beyoncé's Facebook page both accidentally published an announcement of Bey and Jay's "On the Run 2," then quickly realized the mistake and took it down. Oopsie! But they weren't quick enough, of course, and sources eventually confirmed to Billboard that a hold had been placed for the tour at a number of North American stadiums. But now, NOW, fans finally have official word from the Queen herself that this thing is really, truly happening. Which basically means it's time to stop freaking out and start saving up if you want to score those floor seats.
Tickets go on sale March 16, so you don't have much time to get in formation. Line starts to the left, to the left.
Sorry, I had to. Because this OTR II tour news just made my morning for real. And judging from the reaction on Twitter, Bey and Jay's fans are totally pumped, as well.
That last tweet is totally on point. Meanwhile, some members of the Beyhive are already trying to figure out how they're going to be able to afford tix, and TBH I kind of don't blame them. The last time the pair performed on tour together, it was one of the hottest — and most expensive — tickets in town.
You can go ahead and take mine too, Bey, since there is no way I am missing this! The tour will kick off on June 6 in the UK, then hit the U.S. on July 25. Tickets will go on sale to the general public starting March 19 at LiveNation.com. There will also be a pre-sale for TIDAL subscribers, Citi cardmembers, and members of the Beyhive fan club beginning March 14 at 9 a.m. in North America, and 10 a.m. in the UK and Europe.
Wondering if the Carters will be visiting your city? Here's the complete list of tour dates... fingers crossed!
In Europe:
June 6: Cardiff, UK, Principality Stadium
June 9: Glasgow, UK, Hampden Park
June 13: Manchester, UK, Etihad Stadium
June 15 London, UK, London Stadium
June 19: Amsterdam, NL, Amsterdam Arena
June 23: Copenhagen, DK, Parken Stadium
June 25: Stockholm, SW, Friends Arena
June 28: Berlin, DE, Olympiastadion
June 30: Warsaw, PL, Stadion Narodowy
July 3: Cologne, DE, RheinEnergieStadion
July 6: Milan, IT, San Siro
July 8: Rome, IT, Stadio Olimpico
July 11: Barcelona, ES, Olympic Stadium
July 14: Paris, FR, Stade de France
July 17: Nice, FR, Allianz Riviera
In North America:
July 25: Cleveland, OH, FirstEnergy Stadium
July 28: Washington, DC, FedEx Field
July 30: Philadelphia, PA, Lincoln Financial Field
Aug. 2: E. Rutherford, NJ, MetLife Stadium
Aug. 5: Boston, MA, Gillette Stadium
Aug. 8: Minneapolis, MN, US Bank Stadium
Aug. 10: Chicago, IL, Soldier Field
Aug. 13: Detroit, MI, Ford Field
Aug. 18: Buffalo, NY, New Era Field
Aug. 23: Nashville, TN, Vanderbilt Stadium
Aug. 25: Atlanta, GA, Mercedes Benz Stadium
Aug. 29: Orlando, FL, Camping World Stadium
Aug. 31: Miami, FL, Hard Rock Stadium
Sept. 11: Arlington, TX, AT&T Stadium
Sept. 13: New Orleans, LA, Mercedes-Benz Superdome
Sept. 15: Houston, TX, NRG Stadium
Sept. 19: Phoenix, AZ, University of Phoenix Stadium
Sept. 22: Los Angeles, CA, Rose Bowl
Sept. 27: San Diego, CA, SDCCU Stadium
Sept. 29: Santa Clara, CA, Levi's Stadium
Oct. 2: Vancouver, BC, BC Place