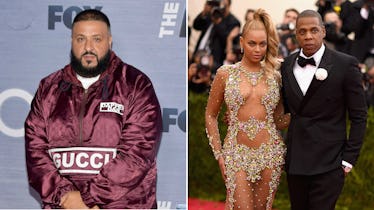 DJ Khaled Dropped "Top Off" Featuring JAY-Z & Beyoncé & I Actually Can't Breathe
Neilson Barnard/Dimitrios Kambouris/Getty Images Entertainment/Getty Images
Oh HELL yes. Some good news coming out of the music industry, friends. Have you ever just hoped and prayed for some new music that would just blow you away? Well, your day just got a million times better, because DJ Khaled's "Top Off" with Beyoncé and JAY-Z is here, and fam, you're going to want to listen to it on repeat all damn day.
DJ Khaled, aka the unadulterated king of Snapchat, has been making some incredible music and collaborating with some of the most famous artists in the business for years. Most recently, he worked with Justin Bieber for the track "I'm The One," and crushed it with Rihanna for the song "Wild Thoughts" back in 2017. But now, he's taking the king and queen of the music biz (Beyoncé and JAY-Z, but you already knew that) with his newest song, "Top Off," for his upcoming album, Father of Asahd, and it. is. EVERYTHING.
According to Rolling Stone, much of the lyrics have references tied to "the imprisoned Meek Mill, the late Prince and Trayvon Martin's killer George Zimmerman."
Some of JAY-Z's lyrics go:
I do the whole dash with no seatbelt, Screamin', "Free my n****, Meek Mill", N***** can't wheelie in this free world, Meanwhile Georgie Porgie sinnin' and sendin' me threats, Save your breath, you couldn't beat a flight of steps
Then, JAY-Z says, "B, put this f*ckboy on notice," and our girl Bey comes in and spits FIRE. Some of Beyoncé's lyrics go:
I'm the only lady here, still the realest n**** in the room, I break the internet, top two and I ain't number two, My body, my ice, my cash, all real, I'm a triple threat, F*ck it up and then leave, come back, f*ck it up and leave again, Top off the coupe and it look like Freaknik, In the hood, hollerin', "Free Meek", Two deep, it's just me and JAY, Just posted in them courtside seats, Woo! I'm like "hol' up", Woo! I might roll up, If they're tryna party with the queen, They gon' have to sign a non-disclosure
Damn, Bey!
Future also plays a role on this track, coming in on the chorus, "I took the top off the Maybach," as well as a few lyrics to close out the track with DJ Khaled.
All in all, it's one badass song with a badass group of artists that will have you listening non-stop. Take a listen for yourself:
This isn't the first time that DJ Khaled has collaborated with Bey and Jay, either. Almost exactly a year ago, DJ Khaled dropped the song "Shining" featuring Beyoncé and JAY-Z, which was also musical gold, so really, is there anything these three can't do together?
Khaled's album, Father of Asahd, is dedicated to his son, Asahd, and Khaled has been very vocal about how important his family is to him. In an interview with the Miami New Times, he said,
My son is my biggest blessing. I look at everything different now. When I work hard, nonstop, I don't get tired because I know I'm doing it for my son ... I've always been the type of guy to have no fear in the studio, I don't follow no rules. But now, with my son, it's like I've got a different bounce. I've got an energy, a glow that's on forever.
Can't handle the sweetness. DJ Khaled also called his son his "best friend," and honestly, I don't know how much more love I can handle between these two. According to The Post, Khaled said,
That's my best friend, and I'm his dad. So my son, he's the CEO of my company. He's the boss of everything now. He's just learning early, you know what I mean?
Can a baby be the CEO of a company? DJ Khaled DGAF either way, so it looks like we've got an actual boss baby on our hands.
If "Top Off" is any reflection of the rest of the tracks off Khaled's newest album, we have a feeling that it's going to be another winning record.