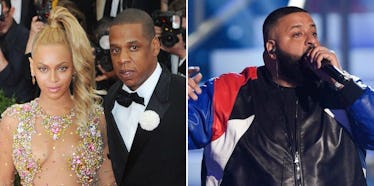 Beyoncé, Jay Z and DJ Khaled's New Song Will Have You Wishing For 'Another One'
REX/Shutterstock
How does Beyoncé respond to possibly the biggest Grammy snub in the history of ever?
By dropping another banger, like always. She really is the queen.
As soon as the 59th Grammy Awards was over on Sunday night — after Adele went home with Song, Record and Album of the Year — DJ Khaled dropped a new song, "Shining," featuring Beyoncé and Jay Z.
The cover art for the single features DJ Khaled's infant son with his fiancée Nicole Tuck, Asahd Tuck Khaled.
In the song, Bey sings, "Don't try to slow me down," and, "All of this winning, I've been losing my mind."
Clearly, there's no way she could have known Lemonade would lose Best Record and Best Album while she recorded this new track, but those lyrics are still particularly painful now.
When it comes to Jay Z's verse, he gives a shout out to his unborn twins, rapping,
Don't let me have a son, I'm a fool, send him to school in all my jewels.
This new song from DJ Khaled comes just a few days after the 41-year-old record producer announced his new album, Grateful, was on the way.
Khaled was also up for a Grammy on Sunday — Best Rap Album for Major Key, alongside Drake and Kanye West — but the Grammy ultimately went to Chance the Rapper for his album, Coloring Book.
But let's get back to Beyoncé for a second. Can we talk about how much this woman has given us in a year?
I mean, first, Lemonade, obviously. There will never be a greater gift.
Then two weeks ago she blessed us with the most amazing pregnancy announcement of all time: The queen was having twins.
Now she's dropping yet ANOTHER song in our ungrateful laps? Literally, what have we done to deserve Beyoncé?!
In the words of Adele: "What the fuck does she have to do to win Album of the Year?!"