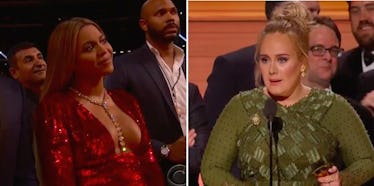 Adele Says She 'Can't Accept' Album Of The Year, Praises Beyoncé Instead
CBS
The 59th Annual Grammys aired February 12, 2017, and BOY, OH BOY, was it a crazy night.
Adele and Beyoncé went head to head and competed in several categories including Song of the Year, Record of the Year and Album of the Year.
Pretty much, it was Adele's "Hello" up against Queen Bey's "Formation" and 25 battling Lemonade.
YEAH, as you can imagine, viewers were on the edges of their seats all night.
Toward the end of the evening, we learned Adele won Song of the Year and she delivered an emotional acceptance speech thanking the people in her life.
Cool, right?
Shortly after, Adele also took home the gold for Record of the Year. Fans were put in an awkward position because, you know, everyone was excited for Adele but also sad for Beyoncé. Like, let's spread the wealth a little, ya know?!
It all came down to Album of the Year.
Would Adele take home ALL THE AWARDS or would Bey share the spotlight?
WELLLLLL, uh, I guess by now we know what went down: Adele's 25 beat Lemonade and took home the award for Album of the Year.
YEAH, I'M NOT JOKING.
It was obviously a stressful evening for Adele. From having issues with her microphone to awkwardly CRUSHING Beyoncé, you could tell the woman felt a little uncomfortable all night.
She did show her support for Beyoncé in many ways, though; she mouthed "I love you" to her and gave her all the credit during her final acceptance speech.
She told the audience,
I can't possibly accept this award and I'm very humbled and I'm very grateful and gracious, but my artist of my life is Beyoncé and this album for me, the Lemonade album, is just so monumental, Beyoncé, so monumental... and so well thought out and so beautiful and soulbearing and we all got to see another side to you that you don't always let us see and we appreciate that and all us artists here adore you... you are our light and the way you make me and my friends feel, the way you make my black friends feel is empowering, and you make them stand up for themselves and I love you, I always have and I always will.
After the show, Adele added,
I don't take any fucking shit when people don't like Beyoncé. You can't be in my life… what the fuck does she have to do to win album of the year... I just thought this year would be the year.
THAT'S SO SWEET, I CAN'T EVEN HANDLE IT.
Congrats to both women on an amazing evening. Bey and Adele, you are both the winners and heroes in my heart.