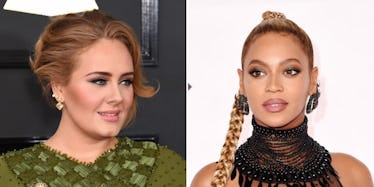 Adele Mouthed 'I Love You' To Beyoncé After Beating Her At The Grammys
REX/Shutterstock
HOLD THE PHONE EVERYONE, IT'S ONE OF THE BIG MOMENTS WE'VE ALL BEEN WAITING FOR.
Goddess Adele went head to head with Queen Bey for Song of the Year at the 2017 Grammys, and wouldn't you damn well know it, Adele won.
Despite the internal conflict we all might have been experiencing, being both crazy loyal to Adele and religious followers of Lord Bey, no one is mad.
"Hello" is a triumph, and something tells us Beyoncé isn't going to take this one too personal -- she has some big things going on anyway.
As Adele took the stage to accept her award, she stopped to mouth "I love you" to Beyoncé, which, as if we couldn't love either of them more, somehow made it so.
The award came as a welcome relief for Adele after she got off to a rocky start with her tribute performance to George Michael.
Beginning the song off-key, the "Someone Like You" singer swore, apologized for swearing and then asked to restart the song from the top.
She also referenced her performance last year, which had it's own technical difficulties, saying,
I know it's live TV. I can't do it again like last year. I'm sorry, I can't mess this up for him. Can we start over?
ADELE. YOU GET AS MANY DO-OVERS AS YOU WANT.
As she took the stage to accept her award, she apologized again for her performance, expressing how important it was for her to get the song right and offering that she hoped she didn't offend anyone by saying "fuck."
As if.
Adele and Beyoncé are rumored to be friends IRL anyway, and we can't imagine this would be something that would come between two raging female icons.
If only Adele could quickly get pregnant with twins so their children could grow up to be besties and create the ultimate squad of all time, that would greattttttt.
Anyway, we love you Adele. Hello from the other side (of the TV).