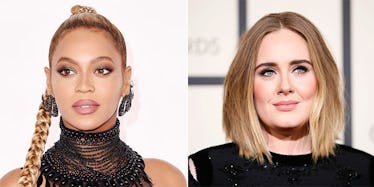 Beyoncé And Adele Are Going Head-To-Head At The Grammys This Year
REX/Shutterstock/REUTERS
The 2017 Grammy nominees are here, and unsurprisingly, Beyoncé takes the lead with a total of nine nominations.
But Rihanna and Drake aren't far behind Queen Bey, each earning eight Grammy nods for their albums ANTI and Views.
Adele came in with five, but for key categories like Album of the Year, Record of the Year and Song of the Year.
Kanye West scored eight noms, but Life of Pablo did not make the Record, Album or Song of the Year lists, leading fans to believe the rapper will follow through on his promise to boycott.
Both Beyoncé and Adele made all three of the top lists — Record, Song and Album of the Year, for "Formation," "Hello," 25 and Lemonade.  In fact, they were the only two artist to do so.
While it's definitely still anyone's game, it does seem likely the big wins in February will come down to these two powerhouses.
So, how does one choose between Beyoncé and Adele?
I mean, both are near perfect specimens of humans and musicians. It's quite the conundrum, and a lot of people are struggling with it.
Some people are Adele all the way.
Others feel while Adele is amazing, Beyoncé earned the win this year.
And some are upset the Grammys are making us choose at all.
Still others are just hype to see two kick-ass ladies dominating the field this year, no matter who wins what.
That's basically where I'm at right now. Give Adele Best Song and Bey Best Album, and I'll be more than happy for my two queens.
(And hey, that leaves Best Record open for my third queen, Rihanna. I'm just saying!)
See the partial list of 2017 Grammy nominations below:
Record of the Year "Hello" — Adele "Formation" — Beyoncé "7 Years" — Lukas Graham "Work" — Rihanna ft. Drake "Stressed Out" — Twenty One Pilots Album of the Year 25 — Adele Lemonade — Beyoncé Purpose — Justin Bieber Views — Drake A Sailor's Guide to Earth — Sturgill Simpson Song of the Year "Formation" — Beyoncé (Khalif Brown, Asheton Hogan, Beyoncé Knowles & Michael Williams II) "Hello" — Adele (Adele Adkins & Greg Kurstin) "I Took A Pill In Ibiza" — Mike Posner (Mike Posner) "Love Yourself" — Justin Bieber (Justin Bieber, Benjamin Levin & Ed Sheeran) "7 Years" — Lukas Graham (Lukas Forchammer, Stefan Forrest, Morten Pilegaard & Morten Ristorp) Best New Artist Kelsea Ballerini The Chainsmokers Chance the Rapper Maren Morris Anderson .Paak Best Rap Album Coloring Book - Chance the Rapper And the Anonymous Nobody - De La Soul Major Key - DJ Khaled Views - Drake Blank Face LP - ScHoolboy Q The Life of Pablo - Kanye West
For the complete list of 59th Annual Grammy nominations, visit the official Grammys website.
Citations: 59TH ANNUAL GRAMMY AWARDS NOMINEES (Grammy.com), Grammy nominations 2017: Beyoncé and Drake lead the pack (Entertainment Weekly)