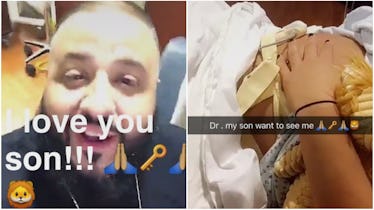 DJ Khaled Streamed His Own Album While Snapchatting His Fiancé Giving Birth
Snapchat
When it comes to Snapchat, DJ Khaled does NOT mess around. He's king.
Needless to say, when his fiancée Nicole Tuck gave birth to their sweet baby boy last night, DJ Khaled, naturally, documented the entire thing on his Snapchat for all of his fans to see.
What set the vibes for this monumental event even more was the fact that he casually streamed beats from his newest album, Major Key, when this was all going down.
Seriously though, this couldn't have gotten any more DJ Khaled than THAT.
#ANOTHERONE.
To be honest, I feel super awesome right now to be included in this incredible part of DJ Khaled's life. We're basically BFFs now, right?
#MAJORKEY.
DJ Khaled posted several intimate pictures on his Instagram, beginning when his fiancée's water broke.
He captioned the picture,
Bless up fan luv the dr. said my queens water Broke .. It's go time ! All praise to the most high fan luv I'll keep you posted !! I have to be honest I'm so excited and my nerves on another level smh .. I'm focused thoe I LOVE YOU SO MUCH SON
Yup, as promised, HE DEFINITELY KEPT US POSTED.
A fan uploaded a couple of DJ Khaled's Snapchat videos to Twitter. The first one gained over 1,000 retweets and 1,000 likes.
Literally LOLing at what this fan captioned his second video.
That MAJOR KEY life, though.
And then another fan video is of little BABY KHALED being welcomed into the world. His name is Asahd Tuck Khaled, and he weighs 7 lbs 14 oz.
DJ Khaled looks SO DANG HAPPY as he laughs and says, "Baby's here!" Baby Khaled's name, "Asahd," is Arabic for "lion."
Fans on Twitter spread so much love towards DJ Khaled and Nicole.
And I have to say, I really could not agree with this dude more.
DJ Khaled, you keep doing you like a boss, and congratulations to you and Nicole on your sweet little munchkin.
#BLESSUP.
Citations: DJ Khaled Really Snapchatted His Fiancée Giving Birth and Twitter Lost It (Complex)