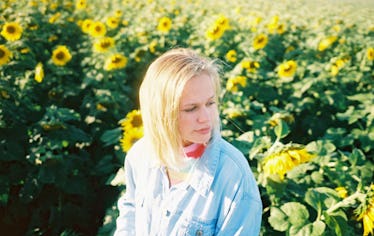 8 Clever Pictures To Take In A Sunflower Field This Fall For A Blooming Feed
Girls like you just wanna have sunflower fields. All summer long, you've been going out for shoots with your besties during the golden hour. You captured those light leaks and scoped out colorful walls around town. This season, your prime location will be places where flowers stretch well into the horizon line. (Even thinking about it has you so excited.) You'll surround yourself with pops of yellow, and pose with every petal. But, you don't want your photos to be basic in any way. Don't worry — I've tracked down some clever pictures to take in a sunflower field, so that your feed is truly blooming at its best.
Essentially, you need to find one giant sunflower that speaks to your soul, and then work all the possible angles. You should wear an outfit that is fairly neutral, or maybe includes some denim. Overalls are always a good idea, but a classic pair of jeans will do just fine. The key is to leave the color up to the sunflowers in the field. (Let's be honest: They're about as bright as it gets, and you don't want to steal their thunder by bringing a bold red into the mix.)
When you post the photo on your feed, you'll want to apply the latest editing trends for Instagram. Give your 'Gram a glow (The sunflowers will help you out with that one.), and then share one of these eight clever pictures with the social media world.