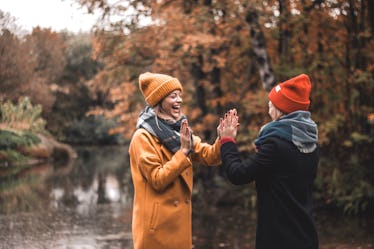 The Fall Activity You Need To Do With Your Bestie, Based On Your Zodiac Sign
Can you smell the apple cider and cinnamon in the air? That's right, the coziest season of the year is here, and you're unsure of where to begin. You could start with the #basic activities, like buying your first pumpkin spice latte, or wearing your favorite flannel. At some point, you want to hit up a pumpkin patch or go apple picking. (You have your fingers crossed that there will be enough time for all of this!) Before you start stressing, though, let the universe lend a helping hand. The fall activity to do with your best friend is simple, thanks to your zodiac sign.
Once again, your fate is written in the stars. You've been spending your last few weeks of summer truly worried about squeezing in the sunshine. Little did you know, the planets would come into play. They helped you navigate through Mercury retrograde, and reminded you to snag those cute oversized sweaters you'd been eyeing. Now, you're really prepared to road trip to a winery with your people.
It's always such a struggle to get to everything on your bucket list, especially when you're limited to a few months during the year. But, the universe believes you and your bestie will get your fill of apple cider doughnuts and have yourself a hay ride. According to your star sign, this is the one activity you should be sure to do: