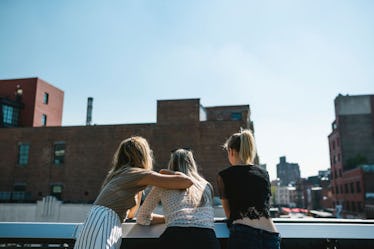 What You'll Miss Most About Your Hometown Friends When You Go To College
The beginning of the school year is right around the corner, which means you're starting to gather all of your stuff. You're packing up your favorite sweaters and combat boots, and of course, you can't forget your curling iron. The only thing you're leaving behind, unfortunately, is your best friend crew from home. Let's talk about what you miss about your home friends in college, because you're not the only one who's feeling bittersweet right about now. These people are your day ones, and they'll likely miss everything about you, too.
You and your crew have stuck together since kindergarten. Back in the day, you'd cause all sorts of mischief, and your teacher would seat you on opposite sides of the classroom. You knew you were best friends when you shared your chocolate pudding and snacks at the lunch table. (Giving up your Oreos is pretty serious stuff, am I right?) Not to mention, you sealed every secret with a pink promise.
Now that you're grown, not much has changed. Although, you may be wondering how in the world you're going to be without your best friends for the next few months. Sure, the semester will be busy and you love going back to school, but is there any way you could squeeze all of your besties into your suitcase? These seven things you'll miss the most about your squad back home. (Don't worry, break and a super sweet reunion is coming soon.)