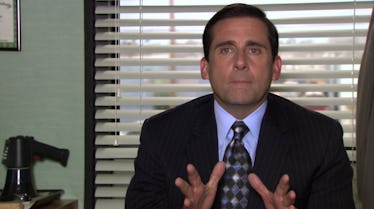 7 Best Michael Scott Moments From 'The Office' That Make Us All Say "Same"
NBC/Netflix
Struggling through the work week? Same, girl. Sometimes a couple of cups of coffee just don't make the cut. You're just looking forward to it being five, when you can pack up your stuff and start snuggling up on the couch. Naturally, you'll turn on The Office, even though you've seen every episode. You just can't get enough of Michael Scott, and I totally understand why. He's the world's best boss, and one of the most relatable sitcom characters out there. The best Michael Scott moments from The Office make us all say "same," and we wish we could be a part of the Dunder Mifflin family.
From every "that's what she said" line, to all of the meetings that started in costume, and the moments of hardcore parkour in between — Michael Scott is truly something else. Selling paper can't be everybody's passion. Just ask Jim how he feels about it! We'd probably be spending our days pulling pranks and hanging out with Pam, too. But, Michael surely has a way of keeping things interesting, way past the water cooler and right down to the warehouse.
Truth be told, he probably deserves all the Dundies, but then who would be host? I'm sure Dwight would love to step up, especially if it meant he got to be manager for even just a minute. Scranton wasn't the same when Michael left, but these moments remind us why we'll always be able to relate to The Office.