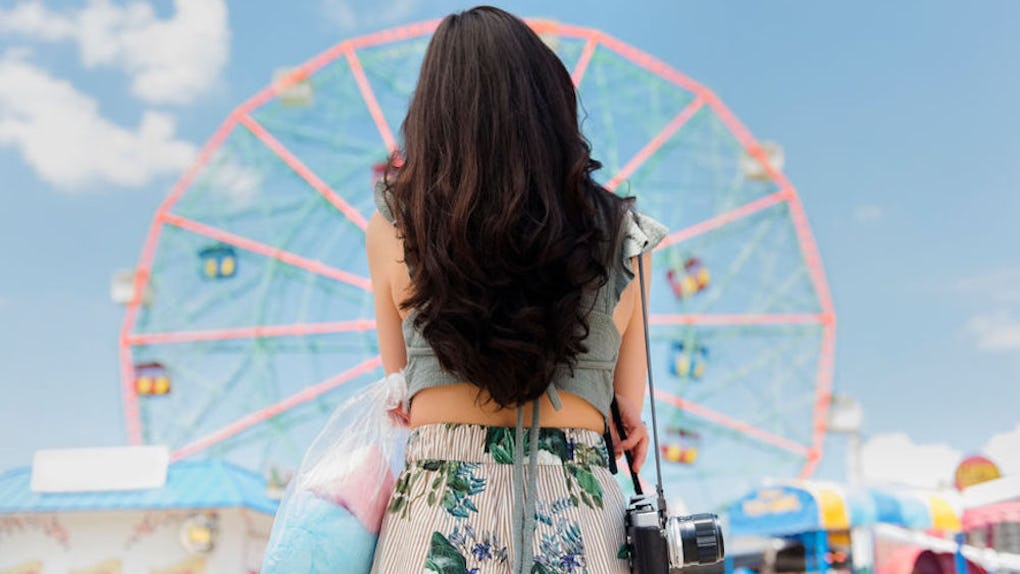 jamie grill atlas/Stocksy
28 Instagram Captions For Ferris Wheel Pictures, Because It's Fair Season
Fried dough? Yes, please! Fall is basically right around the corner, which means that cute fairs are going to be popping up in nearby towns. You'll drive by the parks, and suddenly see food stands and rides being set up. The first day that everything is open, crowds will rush through the gates to get to the corn maze and snag a seat on the Ferris wheel. You'll be one of them, taking your mac and cheese bites into the sky, and watching the sunset from up in the clouds. Naturally, you'll need some Instagram captions for Ferris wheel pictures, because you wouldn't let social media miss out on such a sweet moment.
Let's be honest: Fairs are a perfect place for a photo shoot. You could pose with your cotton candy for a fun-loving and candid picture, or you could dance under the neon lights with your hands up in the air. You'll go for the piggyback with your pals, or blow a kiss to a super fluffy, stuffed animal unicorn that you won as a prize. Are you starting to get some good ideas?
No matter how many times you hit up the fair this fall, you'll always bring your camera along for the ride. Polaroids will cover your room by the time October comes around, and you'll edit the pictures on your phone to fit the Instagram editing trend of the season (otherwise known as the "golden glow"). Yes, you're feeling cozy AF just thinking about it. But, you're still in desperate need of a caption for those Ferris wheel pics. Don't worry: As a girl who's obsessed with fall and getting the perfect 'Gram, I've got you covered.
1. "Life is like a Ferris wheel. Even when you're down, just remember there's always a way back up." — Unknown
2. "Cotton candy lips and Ferris wheel eyes." — Jessica Katoff
3. "I see nothing in space as promising as the view from a Ferris wheel." —E.B. White
4. "She was afraid of heights, but she was much more afraid of never flying." — Atticus
5. "Free admission to those who dream." — Unknown
6. "Life is a ticket to the greatest show on Earth." — Martin H. Fischer
7. "It's been one blur of fun." — Lily Pulitzer
8. "Life is a beautiful ride." — Unknown
9. "Oh, the places you'll go." — Dr. Seuss
10. "On top of the world." — Unknown
11. "The sky is the limit, and I'm almost there." — Unknown
12. "You can find me on the Ferris wheel." — Unknown
13. "You loved Ferris wheels more than roller coasters because life shouldn't be lived at full speed, but in anticipation and appreciation." — Amy Harmon
14. "I'll look back on this and smile, because it was life and I decided to live it." — Unknown
15. "Just here for the fried dough and Ferris wheel." — Unknown
16. "All friendships should find their way to a Ferris wheel." — Unknown
17. "Keep looking up, that's the secret of life." — Snoopy
18. "I never met a French fry or Ferris wheel I didn't like." — Unknown
19. "The only things you should chase in life are your dreams and a chance to be in the sky." — Marisa Casciano
20. "Someone left the door to the cotton candy machine open and all the pink flew into the sky to welcome the rising sun." — Erica Gerald Mason
21. "You'll never know how great a kiss can feel, when you stop at the top of a Ferris wheel." — Freddy Cannon
22. "Once you have tasted the taste of sky, you will forever look up." — Leonardo da Vinci
23. "Am I tall enough to ride this ride?" — Unknown
24. "When you're on a Ferris wheel all anyone ever talks about is being on the Ferris wheel and the view from the Ferris wheel and whether the Ferris wheel is scary and how many more times it will go around." — John Green
25. "This is what dreams are made of." — Lizzie McGuire
26. "Cotton candy skies and my best friend by my side." — Marisa Casciano
27. "Live, laugh, and love every second of the ride." — Unknown
28. "Enjoy the ride." — Unknown
Are you fair-ly OK with at least one of these captions? I sure hope so, because it's almost fair season and you need to be prepared. The past few months you've been picking out your back-to-school outfit, or purchasing some new shoes to wear around the office. You honestly completely forgot that you needed to get your 'Gram ready for the change in the weather, too.
Soon enough, you'll be hopping on Ferris wheels and stuffing your face with French fries and other amazing food. Next to the rides, the concession stand is your favorite part of any fall fair, and you fully plan on checking pierogis off of your bucket list.
This article was originally published on