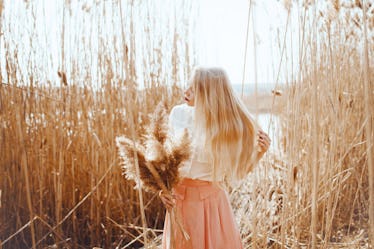 The "Golden Glow" Editing Trend Is Everything Your Instagram Needs This Fall
Oversized sweaters? Check. Apple picking plans with your besties? Check. Prepping your social media for the coziest season of the year? Well, you're working on that one. Summer is coming to a close, and you're soaking up every second of August. But, you're also so excited to sip Pumpkin Spice Lattes and take polaroid pictures in the fall leaves. You're going to check out the local fairs, and snuggle up in your flannels. The only thing you need is the fall 2018 Instagram editing trend, so that your social media can capture the essence of it all.
Lucky for you, the wait is over. The editing trend of the upcoming season is here, and just for fun, I'm going to call it the "golden glow." Essentially, it's all about sharing that cozy AF atmosphere for all of your followers to swoon over. You want to them to experience the warmth from the other side of the screen, and be inspired by your #fire content.
Some of my favorite lifestyle and travel bloggers have already hopped on this editing style, and scoped out fields of flowers for photo shoots. They're posing in pink pants, and ditching the palm trees for pumpkin patches. Now, it's your turn to get with the glow. I've tracked down the latest Instagram editing trend, and even some tips for using it on your own feed. Step aside, summer. There's a new season right around the block, and it's all about the "golden glow."
What's the scoop on the fall 2018 Instagram editing trend?
Think about what makes you feel cozy this time of the year. Is it your big, comfy flannels that were once your dad's, or cups of hot chocolate after a particularly chilly day in the middle of October? Maybe it's your knit blankets, or just the sunshine at the peak of golden hour. After all, nothing warms us up like the sun and some sweet apple cider around 4 p.m. Get the picture?
When it comes to the fall editing trend this year, that's exactly the sort of mindset you want to be in. You want to create warmth, and use colors and light to give your feed an effortless glow. Every single photo should include touches of pinks, yellows, or even a bit of orange. Some may even have a slight fade, or the exposure may have been brought down a bit.
In the summer, social media was all about sharing your adventures and making your 'Gram look a little sun-kissed. You'll find that your feed naturally flows into this new editing style, except without all of the bright colors and sharpened shots of waterfalls.
How can you edit your pictures to have a "golden glow?"
The "golden glow" is actually a pretty easy editing style when it comes down to it. At first, the little details may seem tedious — adjusting the light curves so that there's less exposure, and adding just enough yellow that the sky looks warm. But, you'll notice that they make such a big difference in your overall image (and later, your Instagram feed.)
The key is to try to find atmospheres or wear outfits that already include certain elements of warmth. This will cut down your editing process, and put a lot more focus on the composition of your shots. Maybe you'll pose with some pumpkins, or toss leaves up in the air with your friends. There's really so much you can work with this season that'll naturally feel cozy AF.
Then, throw your photos into your favorite editing app and start working with the colors. Tone down any blues and make any greens look a lot warmer. Turn your reds into soft pinks, and maybe add some grain for a vintage feel. When in doubt, purchase a preset pack for Lightroom that's been created by a blogger just for you and your feed. Personally, I love the look of Jaci Marie Smith and Aspyn Ovard's photos. They've already gotten with that #goldenglow. (Can we make that hashtag happen, please?)
What are some "golden glow" picture ideas?
Feeling a bit stuck when it comes to content? Don't worry, I got you covered with that, too. Naturally, your first instinct this season will be to take pictures with the leaves or your PSL. You'll come up with some caption like, "Reunited and it feels so good!" That's cute and all, but you can definitely bring it to the next level.
Truly dive head-first into the "golden glow" editing style, and have photo shoots during sunset. Gather up your girls and pose in flower fields instead of pumpkin patches, and go hiking for a new angle on the world. If you're based in the city, you may try and warm up those neon signs that you pass by every day on your way to class or work. Even switching up your selfies for snaps of cups of coffee and cute pups in flannels is a good idea. Before you know it, you'll be posting blogger-worthy content and getting likes all season long. Social media prepped for fall? Check.