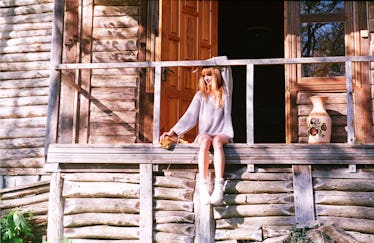 How To Plan A Fallsgiving In Your 20s, If You're A True Adult
The cat's out of the bag: You're an adult. You've been making dinosaur-shaped nuggets for dinner and dressing up like your favorite Disney characters for Halloween, in hopes that you wouldn't have face the facts. But, the leaves are starting to change, and you're starting to accept that life is, too. (Picking apples is still acceptable in the #adult life though, right?) You're genuinely excited for what's to come, and are planning to embrace the season and your newfound adulthood, and throw a party in honor of it all. Here's exactly how to plan a Fallsgiving in your 20s. You don't want to mess this one up.
When you were a kid (like, yesterday), you'd jump in the piles of leaves in your backyard. Stepping on the crunchy ones was your favorite thing to do. After a little while, Mom called you in for pie. The entire house smelled like cinnamon, and she even gave you some hot cocoa on the side. The following weekend, you went apple picking with your best friend, and hopped on a hay ride.
Seriously, though: Can we still do that right now?! Actually, yes. That's what Fallsgiving is all about! Essentially, it's a weekend where you gather up your girls and celebrate autumn. You could have photo shoots at the fair and paint pumpkins for your apartment. I've rounded up some other tips, so your first event as an #adult goes off without a hitch.