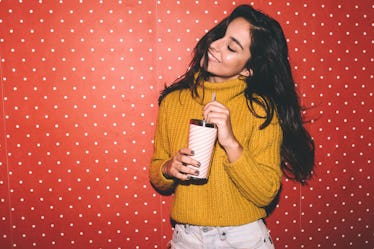 A "Fallsgiving" Party Is The New Tradition You & Your Friends Have Been Missing
Fall is in the air. Seriously, can't you smell the crisp leaves and apple cider donuts from the other side of the screen? You're prepping your closet with flannels and scarves, and already scoped out the dates of the local fall fairs. You're more than ready for summer to come to a close so that you can start sprinkling cinnamon everywhere. (Just don't tell anyone else, OK?) Not everybody is ready for autumn, but your crew is excited to celebrate the season. There are so many reasons why a "Fallsgiving" party is the new tradition you and your friends need in the next few months. Let's just say, you've been missing out.
Falling in love with this season isn't too hard, in my personal opinion. Between the cotton candy, comfy sweaters, and iconic Halloween costumes — what's not to love? I've found that hiking in the fall is one of my favorite things because the whole world feels bright. You walk on the trails and are instantly surrounded by vibrant reds, oranges, and yellows, and the leaves look so lovely. The only thing that could make that moment better is sharing it with someone else.
Well, that's where your besties and a weekend of fall activities comes in. Yes, Fallsgiving is all about spending some time with your crew and finding all the Ferris wheels and corn mazes you can. You've been missing out on this tradition, but this year you won't skip such a sweet party. (Can Starbucks cater and bring some Pumpkin Spice Lattes?)
What is a Fallsgiving party?
A Fallsgiving party is essentially a celebration of all things fall. It's another excuse to get your crew together, and make some memories that just happen to be in theme with the season. Unlike Friendsgiving, you don't need to prepare a bunch of food. (Phew! Nobody knew how to carve a turkey, anyway.) Although, you may decide to pull out the recipe books or Pinterest boards and make some homemade caramel apples.
It's not like Halloween, either. You don't need to wear a costume or dress up like your favorite sitcom character. Just a oversized sweater, a pair of boots, or something in your closet that's mustard yellow will be fine! You'll fill a weekend up with activities that you can only do when it's a bit chilly outside. A football game, drinking hot apple cider, and watching your favorite Halloween movies are all fair game. Are you getting the picture yet?
When should you celebrate Fallsgiving?
There isn't an exact date that you have to celebrate Fallsgiving, so you could get spooky and excited with your crew at any time. For the best experience, though, you and your besties should plan your festivities right in the peak of fall.
The coziest season of the year starts in September, but it's not until a few months in that you're truly swapping out your T-shirts for oversized sweaters. (Let's be honest: You need a flannel for a party like this. It's only right, and the most festive thing to do.) Pick a weekend in October or early November when the leaves are glowing with orange and red hues. It'll feel like you're in a dream, brought to you by autumn.
What kind of activities can you do for Fallsgiving?
All of your favorite fall activities have a place during Fallsgiving. That's right — eating cotton candy at local fairs, roaming around pumpkin patches, and picking apples with your besties can be part of the itinerary this weekend.
You'll gather around a table, or start wildly texting in the group chat about what you want to do. Each friend will pick one activity, and you'll make sure to check everything off the list. Maybe you'll bake an apple pie, make a jack-o'-lantern, or plan your Halloween costumes. There's going to be at least one person who wants to ride a Ferris wheel, and don't forget about that spooky haunted house!
If your crew is the outdoorsy or adventurous type, you may even get outside and go for a hike in the crisp air. Fallsgiving is probably the easiest party you'll ever plan, just because there's no shortage of things you can do. Did someone say corn maze?
What are some unique Fallsgiving pictures you can take with your best friends?
Of course, you need to take pictures the entire weekend, so that you never forget the memories you made during Fallsgiving. You'll want to capture every moment of stuffing your faces with cotton candy and posing with the cutest pumpkins in the patch. When all is said and done, you'll post something on social media and spread that festive feeling to your followers.
Leave it to the girl who's obsessed with the 'Gram (that's me!) to come up with some unique pictures for you and your people. First thing's first, you could pose along the bright lights of the carnival rides or hold up a bunch of sunflowers in the middle of a field. You could even grab a few selfies with a scarecrow.
Throw your photos into Adobe Lightroom, and follow the latest editing trend of the season to give your feed a golden glow. Just like that, you'll document an amazing Fallsgiving. Let's do it all again next year, OK?