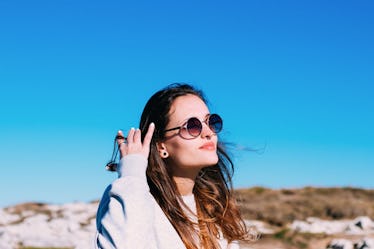 7 Promises To Make To Yourself This Fall That'll Bring This Season To The Next Level
Oh my gourd, it's almost fall? The leaves will begin to change, and it'll be time to break out your favorite oversized sweaters. Soon enough, all of the beaches will close, and you'll pack up your bag for next season. Don't be sad to leave behind summer, though. There are still so many months ahead of you that are full of possibilities and memories waiting to be made. Sure, you could wallow over the trips you didn't take, but I challenge you to find promises to make to yourself this fall that will bring this season to the next level.
This isn't the time to call it quits on your daydreams. Life goes on and the seasons change, but it's all whatever you decide to make of it. Think of your day as a cup of coffee: You could water it down, or be adventurous and try something with a caramel swirl. You could add some sugar, and make the bitter situations a little sweeter. Get the picture? Your life is a mug, and every day you decide how to fill it. *Pours self second cup of coffee because now I'm craving it.*
It's prime time to seek out these seven promises that are truly inspired by the season. They are are easy and attainable things you can do every day, and particularly perfect for fall.