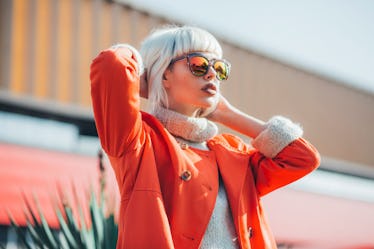 7 Things The Girl Who's Obsessed With Fall Wants You To Know
When summer comes to a close, you may feel a bit melancholy. You're packing up your s'mores supplies, and swapping out those sundresses for oversized sweaters. The last beach day is always a little bittersweet, and you say, "Sea you later," to the waves and long hours spent with the surf and sand. You and your girls drive home and reminisce about all the memories you made, and the trips you'll take when it's warm again. There's always one friend in the car — the girl who's obsessed with fall — who's more excited for these next few months, which will be filled with Pumpkin Spice Lattes.
Yes, this girl is ready to leave behind the sunny days at the lake, and spend her time riding ferris wheels well into sunset. She's had her Halloween costume planned for months, and already scoped out local sunflower fields for a photo shoot. She'll gather up your girl crew for apple picking adventures on weekend afternoons, and insist on getting fried mac and cheese at the fair. (Of course, you'll say yes to that.)
But, there's more to the girl who loves fall than flannels and a passion for pumpkin patches. Right now, you're probably assuming that this is just a phase, that will come and go with the vibrant colors of the leaves. Think again — this girl loves fall because it's a part of her in the most interesting ways. Here are seven things you should probably know.