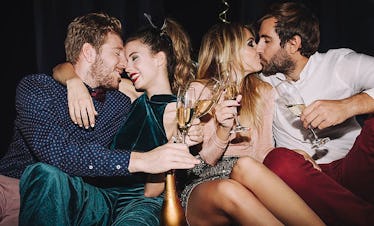 These Super Cute New Year's Kiss Stories Will Get You Pumped For NYE This Year
Feeling burned out by the prospect of another New Year's Eve? I get it. We don't always get to partake in cute New Year's Eve kisses or super fun nights to remember. Sometimes, we don't even make it out the door. The pressure to make this the night to remember, the steep cover charge to get in the door of any club or bar worth going to, plus the fear of not having anyone to smooch when the clock strikes 12 can make anyone weigh the cost and benefits of getting into bed at 10 p.m. on Dec. 31 instead. Whether you go out or stay in is totally up to you, but beyond the glitz and glam, there is something that is undeniably special about New Year's Eve.
The new year reminds us that every moment we experience in our short lives on this planet is incapable of being reproduced. Even though the year turns every year, there's never a midnight that's quite like the last. And whether or not the person you kiss on New Year's Eve turns out to be the love of your life, you'll never forget the moment you shared together. Whether funny, kinky, or downright romantic, these cute New Year's kiss stories will make you remember why you liked New Year's in the first place.
This person's super sweet story will make you swoon.
In Nov. of 2010, this guy and I started chatting. He was living in Pittsburgh, and I was in Philadelphia, so we were texting a lot, getting to know each other from afar. One night, during the last week of Dec. 2010, I told him over text I had a crush on him. He told me he had a crush on me, too, and it felt like my entire body filled with candlelight.
I was living in a crazy party house far away from my school's campus, and we were going to be hosting a giant New Year's Eve bash. After some beverages, I was overcome with the confidence that this guy was going to be someone very special to me, even though he wasn't even present for the party. I had the feeling that I wasn't going to want to kiss anyone else for a very long time, so right at midnight, I decided that, since that was the case, that night I would kiss everyone. All of my best friends were there, and we were all so happy and hugging and screaming, 'Happy New Year!' to each other. I asked each person if we could do a New Year's kiss, and it was really nice. Nothing too wild, just some sweet, platonic love, celebration, and admiration. The next day, my crush drove all the way to Philly. We kissed for the very first time and ate pizza and stayed up all night sharing stories. It was nice. It was real. It was a New Year.
— Anonymous
By the way, this girl was totally right about not kissing anyone else for a long time. The couple is still together today.
Now, if you're looking for a New Year's kiss story with a twist, this person started a very new, very gay tradition with his boyfriend that carries on today.
New Year's Eve 2015 was really the honeymoon phase for me and my boyfriend. We had just become official the day after Christmas, and we were super in love. We went to my friend's roof to watch fireworks and drink with a bunch of other queers. When it was about to be midnight, my boyfriend turned to me and said he wanted to eat my butt while the new year turned. We snuck off to a corner of the roof, I dropped trough, and he went to town. Last year, we decided we wanted to keep the tradition and snuck off again, so he could kiss my butthole at midnight to ring in 2017.
— Zach, 27
And yes, in case you were wondering, Zach and his boyfriend plan to salad toss their way into 2018, too.
Last but not least, we have this absolutely adorable story from Reddit.
It was a New Years Eve about 5 years ago and I was in my hometown for it. Bumped into a guy I used to see and after a little flirting he said he's see me at midnight. Come 11:59 the countdown is happening and he's nowhere in sight. The count gets to 3 and I look around and he is absolutely bombing it through the crowd, pushing people aside to get to me and bang on midnight he rushes into me, grabs me and our lips lock. It's not the most passionate or meaningful kiss I've ever had but damnit it brings a smile to my face every time I think of it.
Here's wishing that, however you choose to usher in 2018, you have a happy and healthy New Year's.
Check out the entire Gen Why series and other videos on Facebook and the Bustle app across Apple TV, Roku, and Amazon Fire TV.
Check out the "Best of Elite Daily" stream in the Bustle App for more stories just like this!