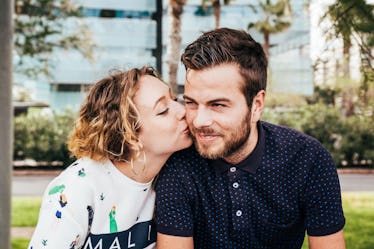 4 Signs Your Partner Doesn't Want A Long-Term Relationship, So Don't Get Too Attached
Before I met my current partner, I had a tendency to have a lot of short-term relationships. I would just get caught up in the excitement and kind of jump into things without really getting to know someone. Then, either I'd realize we weren't a match or the chemistry would just kind of fizzle out. What I learned through this experience was that some relationships aren't built to last, and that's OK too. But everything is a lot smoother when everyone is on the same page, so signs your partner doesn't want a long-term relationship are something you should always be keeping an eye out for early on in a new relationship. That way, you don't catch any really deep feelings and get hurt.
Sometimes these short-term relationships are situational, like, for instance, one or both of you is about go off to college, or move to take a new job, and the long distance thing isn't realistic. But sometimes it's just that right now, one or both of you are in a place where making a long-term commitment just isn't your jam. And that's fine, so long as no one is being led on. Yes, even in short relationships, honesty and communication are key. That being said, those are tough conversations and not everyone is going to be brave enough to have them, and in that case, here's what behaviors the experts say you should be paying attention for, if you think their heart isn't all the way in.