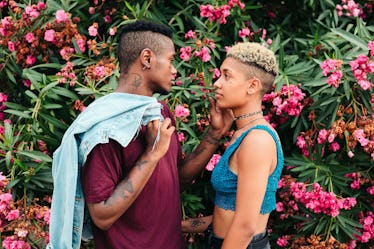 4 Signs Your Partner Isn't Serious About You According To Experts, & Yikes
Figuring out if the person you're dating is committed to your relationship isn't always as straight-forward as we'd like it to be. Let's face it: Deciding to take things from casual dating to a more serious relationship can be a scary thing for a lot of people. If you aren't feeling confident that you and your partner are on the same page about moving forward, then it's important to take note of the signs your partner isn't serious about you.
Although it may be tempting to "stay positive" and avoid focusing on your concerns in the hopes that your partner will soon realize you are the bomb dot com, chances are this may not happen. This is because, more often than not, when someone is apprehensive about getting serious, they've probably already made up their minds that that's not their end goal. Maybe they are in the process of working through some past baggage and aren't emotionally available. Or perhaps, from their perspective, they aren't feeling the same intensity of emotional investment as you are. Regardless, you are too much of a gem to wait around for someone to decide you are worthy of commitment. IMHO, if your partner is displaying the following signs, then it's time to have an honest conversation.