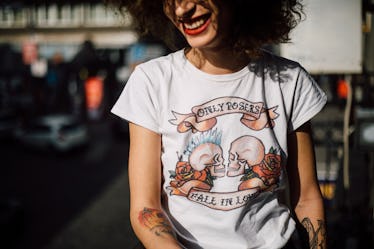 6 Signs You're Definitely Not Ready For A Serious Relationship Right Now
As the great Carrie Bradshaw once said, "Don't forget to fall in love with yourself first." If you can't accept yourself and your flaws, you cannot be truly happy with someone else. When evaluating whether or not you're in a place to commit to something serious, there are a number of possible signs you're not ready for a relationship. Whether you're a serial monogamist or someone who is constantly on the receiving end of the breakup, the real reason you're always starting new relationships might be because you're not ready for commitment.
I spoke to Dr. Grant H. Brenner, psychiatrist and and co-author of Irrelationship, about signs you might not be ready for a serious relationship right now. If any of these red flags feel familiar to you, there's no need to panic. There are steps you can take to address the conflict at hand and eventually move toward a healthy, long-term relationship with another person. Beyond simply identifying the problem, it's important to actually confront the underlying issues. That way, you can work toward finding personal happiness, and eventually share your joy with someone special. Here are six signs you're not yet ready to be in a serious relationship, plus how to deal with each one.