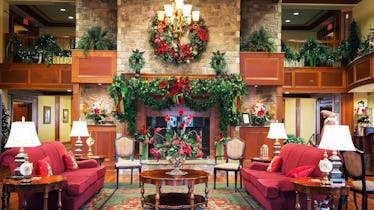 These 6 Christmas-Themed Hotels Are Seriously Perfect To Spend The Holidays In
Courtesy of The Inn at Christmas Place
As temperatures start to drop and summer fades away in the rearview mirror, one thing is certain — the holidays are right around the corner. What better way to get in the spirit than spending some time cozying up at one of the many Christmas-themed hotels across the U.S.? From California to Maine, these inns and hotels will give you all the holiday feels with their decorative holiday lights, evergreen garlands, traditional Christmas meals, tree lightings, and even appearances from Santa himself. Can't wait until December? Not a problem! Even though decorations will likely be most vibrant around the holidays, many of these Christmas-themed hotels let you celebrate month or year-round, so there's no need to wait around for the warm and fuzzies.
If you're a fan of Christmas and holiday-themed things and happen to be traveling during the season, a Christmas-themed hotel may be the perfect place to stay to keep the festive mood alive even after the day is over. But you don't need to be traveling to spend a couple nights in a holiday-themed paradise. Book a room with friends, family, or for a solo vacation and let these magical places cater to your holiday needs.
From charming New England inns to converted Southern estates, these six Christmas-themed hotels are sure to please.