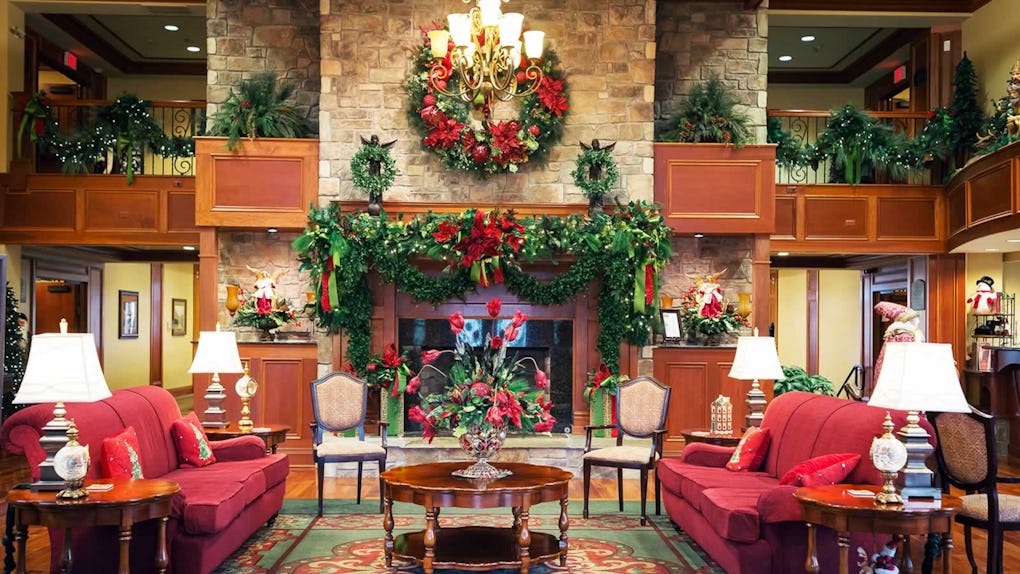 Courtesy of The Inn at Christmas Place
These 6 Christmas-Themed Hotels Are Seriously Perfect To Spend The Holidays In
As temperatures start to drop and summer fades away in the rearview mirror, one thing is certain — the holidays are right around the corner. What better way to get in the spirit than spending some time cozying up at one of the many Christmas-themed hotels across the U.S.? From California to Maine, these inns and hotels will give you all the holiday feels with their decorative holiday lights, evergreen garlands, traditional Christmas meals, tree lightings, and even appearances from Santa himself. Can't wait until December? Not a problem! Even though decorations will likely be most vibrant around the holidays, many of these Christmas-themed hotels let you celebrate month or year-round, so there's no need to wait around for the warm and fuzzies.
If you're a fan of Christmas and holiday-themed things and happen to be traveling during the season, a Christmas-themed hotel may be the perfect place to stay to keep the festive mood alive even after the day is over. But you don't need to be traveling to spend a couple nights in a holiday-themed paradise. Book a room with friends, family, or for a solo vacation and let these magical places cater to your holiday needs.
From charming New England inns to converted Southern estates, these six Christmas-themed hotels are sure to please.
1. The Christmas Farm Inn
Tucked away on Blitzen Drive in White Mountain National Forest, the Christmas Farm Inn and Spa promises a colonial-style holiday experience. Book a room named after your favorite reindeer or stay in the Mr. & Mrs. Claus suite for more space. After finishing up a meal at Mistletoe Pub, head over to Santa's Village for holiday-themed rides, food, drinks, and shopping.
2. The Inn at Christmas Place
Bavarian architecture, Tennessee's Smokey Mountains, and Christmas spirit every day of the year? That's what you get at The Inn at Christmas place in eastern Tennessee, a Christmas-themed hotel committed to bringing guests the spirit of the holidays year-round! Find Santa singing Christmas carols and telling stories three times a week or visit the lobby for a unique carillon and clock installation.
3. Santa's Cottages Lakeside Resort
What better place to keep the Christmas spirit alive and well then Santa's Cottages Lakeside Resort in Santa Claus, IN? The town calls itself "America's Christmas Hometown" and activities at the resort include "reindeer express train" and "elf cottage." Area attractions include Santa Claus Christmas Store, Santa's Candy Castle, and Santa Claus Museum and Village, so if you've got a Santa fan in your life, you know where to go.
4. Apple Farm Inn
Though this San Luis Obispo inn in California isn't a year-round Christmas hotel, you're sure to be enchanted by its take on the holidays when the season rolls around. The holiday cheer package gets you a room and a special holiday ornament, not to mention unlimited viewing access to the trees, lights, and decorations all over the property. Since SLO is wine country, you're in for a non-traditional Christmas treat if you like winter wine tasting.
4. Fairmont Scottsdale Princess
This Scottsdale hotel transforms into a true winter wonderland during the holidays each year. With a Christmas festival, ice skating rink, shows in the plaza, holiday character appearances, a tree lighting ceremony, and a Christmas day brunch, you'll find yourself having the best holiday in the desert.
The St. Regis Aspen Hotel
If you've been dreaming of a white Christmas, you're sure to find it at the St. Regis Aspen hotel in the ski town of Aspen, CO. If you're in the area and looking for a Christmas Eve dinner, find a special holiday menu at this wintry resort. In previous years, the St. Regis has had a tree lighting with performances, photo booths, and holiday cookies.