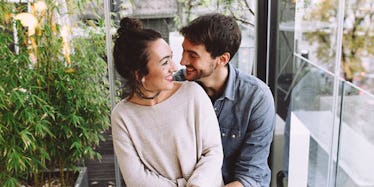 7 Things Couples Should Know About Each Other One Year In
Thais Ramos Varela
Your one-year dating anniversary is an interesting time: Things have certainly progressed well past "casual," but you still haven't quite crossed the bridge into long-term relationship territory.
On one hand, you've been with your SO for enough time that you're confident in your commitment and comfortable opening up about some not-so-easy stuff. On the other hand, after only 12 months, you aren't even close to knowing everything there is to know about your partner.
So, after one year of dating, what should you know about each other?
Let's get one thing straight: Couples shouldn't feel like failures if they don't know every single detail of each other's hopes, dreams, failures, and successes after one year. After all, where's the fun in that?
But at the same time, the one-year mark is a great excuse to check in and make sure that you're on the path to that deeper level of mutual understanding. And although there's no list that comes in the mail when you hit your one-year anniversary, there are certain topics that should be discussed (or at the very least, introduced) by this point in the relationship.
Here are seven things that couples should know about each other after one year if they want their relationship to withstand the test of time.
1. Health History
It's not exactly the most romantic of subjects, but nevertheless, it's one that begs to be discussed.
Whether you're talking personal health or family history, it's important to be aware of your partner's past, current lifestyle, and goals when it comes to wellness.
2. Plans To Settle Down
After a year, it makes sense that you should know where your SO stands on the traditional notion of "settling down."
In order to have a successful relationship, both halves of a couple need to be honest about their desires (or lack thereof) to make a long-term commitment, start a family, or lay down roots in another way.
3. Family Dynamics
Family dynamics are complicated no matter what your story is. And opening up about these issues to your SO (without scaring him/her away) is certainly no easy feat.
But love it or hate it, your family is a large part of your story, and couples who've dated for at least a year should feel comfortable sharing that part of their lives with one another.
4. Deal Breakers
Non-negotiables — we've all got them. Ideally, the fact that you've been dating your SO for 12 months should pretty much mean that you've passed the test.
But this doesn't let you off the hook just yet. You should still be transparent with one another about your bottom lines, whether that means a baby before age 30 or a move to a new city within the next three years.
5. Spending Habits
Remember the days when it was considered taboo to talk about money with your SO? Well, they're over. Money is a large factor in relationships, whether we like it or not. According to a Discover® and Match Group study, strains on relationships are highly likely to be caused by finances.
And while, yes, we all have the right to spend our hard-earned money on the things we want, it's crucial to make sure that you and your partner are aligned on the purchases you intend to make as a couple.
6. Their Friends
Now, we don't like to generalize, but it's safe to say that if you've dated your SO for an entire year and haven't gotten to know their friend group beyond a superficial level, that's a serious red flag.
You can learn a lot about people by observing who they surround themselves with. We all gravitate toward those who share our values, and if you don't know your partner's friends, there's a good chance that you don't truly know your partner.
7. Credit Score
Potentially awkward to bring up? Yes. Good to know? Also, yes. This is particularly true if you and your partner have plans to combine your finances (via marriage) or buy a home in the next few years.
A Discover® and Match Group study — which looked into the relationship between dating and finance — found that people associated a good credit score with other positive characteristics like trustworthiness and intelligence.
But don't let that scare you off. No person's financial situation is perfect, and fear of judgment shouldn't stop you from being honest with your partner about your credit score. After all, just being in the know is a good place to start.
Before hitting your one year anniversary, there are many topics that should be discussed. This could include your credit score. Discover offers a Free Credit Scorecard, and it won't impact your credit score. It's totally free, even if you aren't a Discover customer. Terms apply. Visit Discover to learn more.