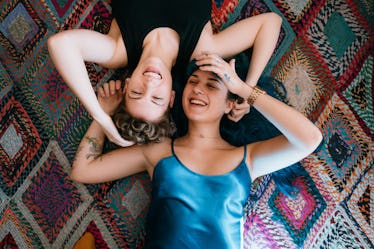 6 Personality Types That Value Quality Time With Their SOs The Most
For some folks, a compliment or a thoughtful gift from bae is what makes them feel warm and fuzzy. But for others, it's all about good old-fashioned quality time — as in, spending a lazy Sunday in bed together, having a deep discussion while cooking dinner together, or taking a little road trip to explore a nearby town. If you're looking for a little insight on who prioritizes this, you can rejoice in knowing this: There are particular Myers-Briggs personality types that value quality time with their partners.
Based on decades of his own research, marriage counselor Dr. Gary Chapman came up with a system of five "love languages" in the interest of helping people better understand how to give and receive love in their relationships. One of those languages is quality time, which entails giving your partner your undivided attention with no multitasking. Making eye contact, actively listening, and being fully present all play a part in this. That means no texting, emailing, Instagramming, or Snapchatting.
For some of us, this may come easily. For others, it may require a little extra effort. But for these particular MBTI types, it's well worth it to carve out some time in your busy schedule to make them feel truly cherished.