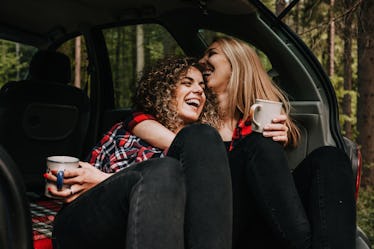 If Your Love Language Is Quality Time, Here Are 9 Perfect Date Ideas For One-On-One Time
I never really knew what my love language was until quite recently. I mean, I've always liked hearing that my partner loves me, and I'm not mad at the occasional gift, but I didn't think either of these things were my love language. Recently, I figured out that it's quality time, and how I found out was so amazing that I can't quit brainstorming date ideas if your love language is quality time, just so we can recreate that moment. My partner and I were at Disneyland, and after a long day of fun, we ended the night just sitting on a bench with a view of Sleeping Beauty's castle, eating Dole Whip. Even after a day full of rides, yummy food, and Disney magic, that simple, relatively quiet moment was my favorite of the day because it was pure quality time.
The good news is you don't have to make the trek to Anaheim, California to recreate that same feeling (although if you can, I highly recommend it), because it has less to do with the setting than it does with just putting aside every distraction and being present with one another. It also doesn't hurt if what you're doing is fun. With that in mind, here are some romantic and fun ways to clock some serious quality time with your sweetie.