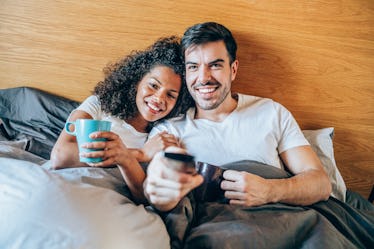 15 TV Shows That Are Perfect For A Watch Party With Your Partner
Some content is just better with company.
VioletaStoimenova/E+/Getty Images
Curling up in front of the TV with your SO can help you forget the stress of a long day or week. It's a low-maintenance, easy date night idea, especially on a rainy or cold night when you'd rather do anything than be outside or partying with friends. The at-home entertainment options are endless, no matter which genre you prefer. The best TV shows to watch on Netflix with your partner are the ones that satisfy both of your moods, which can be a surprisingly difficult thing to do.
Let's say you always watch comedies when you're home alone, while your partner is super into thrillers and true crime mysteries. You probably have trouble reaching a compromise sometimes. And when you've already finished all nine seasons of The Office and sped through You in a single weekend, your options are limited. Do you start rewatching Queer Eye for the third time? Do you give into your partner's incessant pleas to watch Outlander? Who wins this debate?
Before you start fighting over the remote and ruin your evening, look through this list of TV shows perfect for date night. I can't promise you haven't seen some of them, but I'm guessing at least a few will be new to you. Settle in with some popcorn and take a deep breath.