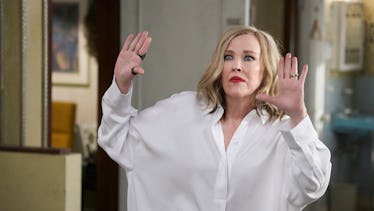 The Best Netflix Show To Marathon, Based On Your Relationship Status
Courtesy of Pop
Dating is full of ups and downs. Sometimes you're sitting on the back of a motor-scooter behind the person you love in a picturesque beach town, feeling like the star of your own rom-com, and sometimes you're standing in line at the Goodwill Outlet only to see on Instagram that the person you thought you were dating is on a dreamy vacation with someone who is not you. (That's literally out of my life.) Of course, through it all, one things is always there: Netflix. And if you're wondering what the best Netflix show to marathon based on your relationship status is, look no further.
Though it can be totally cute to watch TV with a boo, sometimes TV is best shared with friends or family, or (my personal favorite) by your own d*mn self. Watching TV alone means you get to decide the volume, whether or not you want subtitles, and you get to eat all your snacks without sharing. Besides, you're still your own person no matter whose Netflix account you're using.
If you're looking for a new show, or if want to jump back into an old fave, here are the best ones to marathon based on your relationship status: 2019 Edition.