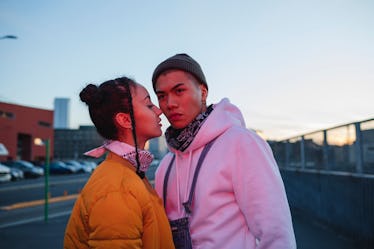 Here's How To Encourage Your SO To Talk About Their Feelings More
There's no denying that vulnerability comes easier to some people than to others. If you and your partner clash when it comes to opening up about your emotions, it can be difficult to foster healthy relationship habits. And while you may be all for talking about your feelings, from happiness to sadness and everything in between, your SO might prefer to keep their feelings to themselves. That's why encouraging your partner to talk about their feelings is so tricky. Ultimately, you can't force anyone to do anything they don't want to do, but when your relationship is on the line, where's the boundary?
"Not everyone is comfortable talking about their feelings," Dr. Gary Brown, a prominent couples' therapist in Los Angeles, tells Elite Daily. "There are many reasons for this. Perhaps they have had painful experiences and are now prone to feeling ashamed, embarrassed, or ridiculed. This may be a long-standing issue for them. In short, they may not feel that the world is safe enough to talk about their inner world. It is important to acknowledge their fear." Once you've done that, the next steps are all about proving to them that your relationship is a safe space for them to open up. Here's how experts suggest moving forward.