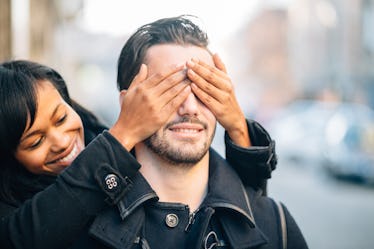 This Is How To Get Your Partner To Open Up More & Actually Express A Feeling
There are few more challenging obstacles in a new relationship than figuring out how to get your boyfriend to open up to you more. Even if you find yourself trusting and opening up to them early on, your partner might not be quick to reciprocate for a number of reasons. For some people, trusting new partners just doesn't come easily; for others, their desire to maintain a sense of personal space prevents them from welcoming you into their lives more willingly.
Nikki Leigh, certified love coach and host of Ready For Love Radio, adds that sometimes, your partner might be facing a much deeper problem. She tells Elite Daily, "The most common reasons [for not opening up] I see are concern and even fear of judgment, like being guilted or shamed for the things we say or feel. This can be especially true when it comes to the things we want or need physically and sexually from our partner. It can also come from feeling that we don't deserve to be loved or don't deserve other things from our partner, so we don't ask for them."
Whatever your reason for wanting your partner to open up more to you, it's best to proceed with caution so that you don't overwhelm them. It's not unreasonable to feel like you want to get to know them on a deeper level because ultimately, this will strengthen your relationship. You just need to go about it in the right way.
If you feel like your partner has built up a wall between you two, here are three ways you can work with them to break it down.