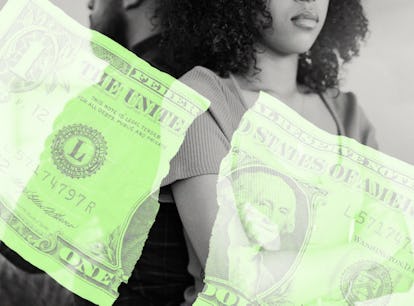 If You Have These Money Issues In Your Relationship, You're So Not Alone
Financial experts explain how to navigate them.
Getty Images/Shutterstock/Elite Daily
Maybe you've only been dating for a couple of months and don't want to mention your habit of buying only luxury hand soap (no judgment). Or maybe you've been together for years and can't agree on the budget for your next trip. Regardless of your status, navigating finances can be a tricky part of any relationship, even if you live apart and have separate bank accounts. The good news? Talking about money can help you work through potential issues together. "Money should be conversational and not this extremely taboo topic," Alli Williams, a financial expert and the founder of FinanciALLI Focused, tells Elite Daily.
As you navigate these talks, keep in mind that money isn't everything, but it does shape what your present and future might look like. Does your partner's debt change your goal to pay off your student loans by a certain age? Will your combined finances support the dog you want one day? The only way to know is to talk it out.
Some couples learn to prioritize those discussions the hard way: After nearly a year of dating, Fifi*, a social worker in Pennsylvania, moved in with her partner and says they were confronted with money challenges immediately. "We're realizing just how many little things add up, and if we want to keep a healthy relationship, we need to start having more conversations about money," she shares.
That open mindset may represent a positive shift around the once off-limits topic of money. In fact, a 2021 survey by Magnify Money, a personal finance education site, found that about two-thirds of Gen Z and millennial couples say they have talked about debt with a partner. Overall, having conversations now can help you two avoid problems in the future. For more insight, we spoke to people about how they deal with the biggest money conflicts in their relationship and asked financial experts for guidance in navigating even the trickiest of situations.
*Name has been changed.
Experts:
Alli Williams, a financial expert and the founder of FinanciALLI Focused
Anjie and RJ, financial experts and hosts of the Rich by Intention podcast
Danetha Doe, a financial wellness educator and the creator of Money & Mimosas