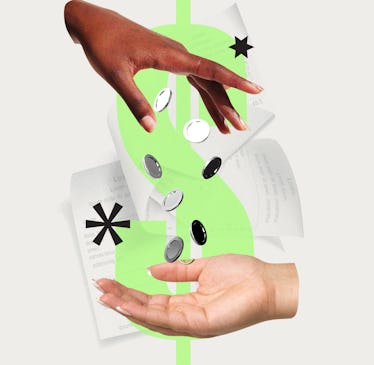 11 Young People Share The Biggest Money Conflicts In Their Friendships
One of the most taboo topics can have the power to break or make relationships.
Getty Images/ Elite Daily
Your best friends are generally the people you turn to in times of trouble. Don't know what's going on with a romantic partner? Text your bestie. Got into a fight with your parents? Call your BFF right away. Facing economic uncertainty? That one... is debatable. Though you can count on your closest friends in almost every bad situation, disagreements over money in friendships can cause rifts when financial boundaries are crossed; money conflicts can even cause best friendships to fall apart.
While gaps in wealth and financial priorities are a given in life, it can be a delicate balancing act for different individuals to compromise about where they spend their money and how much they're willing to spend. For friends who are roommates, this pressure can be exacerbated by the fact that they're sharing a space and communal expenses with another person. For besties who are at different points in their careers, wealth and income disparity can make it seem like neither person — affluent or financially struggling — is able to do what they want, which can cause resentment in the relationship.
Since the subject of money and budgets can be taboo among friend groups, Elite Daily is hoping to shed more light on some of the financial disputes that can be common in friendships in an effort to make these types of discussions more common. Below, 11 Gen Zers and millennials share the biggest conflicts they've had about money with their friends, what they did about it, and where those friendships stand today. If you find yourself in similar situations, we also tapped two friendship experts, Marisa G. Franco, Ph.D., and Suzanne Degges-White, Ph.D., for advice on how to best navigate these financial scenarios.
These interviews have been edited for length and clarity.
*Names have been changed.
Experts cited:
Dr. Marisa G. Franco, psychologist, friendship expert, and author of the upcoming book Platonic
Dr. Suzanne Degges-White, licensed counselor and author of Toxic Friendships: Knowing the Rules and Dealing with the Friends who Break Them